Many major urban areas feel like crane forests these days. In Chicago, 42 high rises are under construction,1 and in the San Francisco Bay Area, the largest construction projects collectively cost $22 billion, more than the gross domestic product of 80 countries.2 Central Seattle is home to 66 major construction projects, with 4.5 million square feet of office space slated to open this year.3
All that activity translates into rising costs. According to the Turner Building Cost Index, a measure of non-residential building in the U.S., 2018 construction costs were up 5.86% over 2017 and up 21.5% since 2014.4
When the commercial property market is this hot, it's a good idea for building owners to take time to understand how rising construction costs impact insurance.
A key piece of the puzzle is co-insurance, which is common in commercial property insurance and also one of the most confusing terms in insurance. Property co-insurance (which is not the same as healthcare co-pays) is set by the insurance company. It determines what percentage of the building limit (the amount the building is insured for) must be insured so you — the property owner — can be fully reimbursed for a covered loss.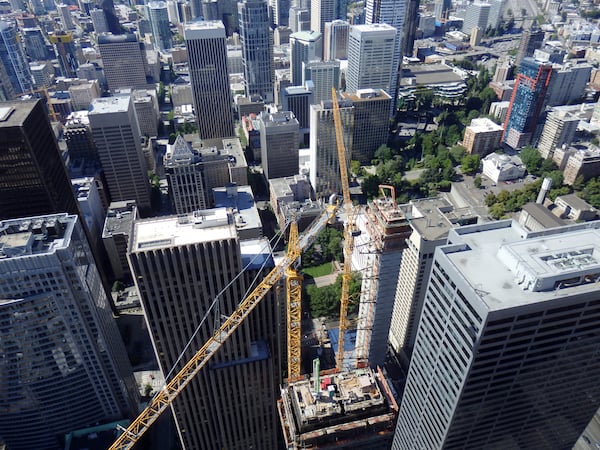 These commercial construction boom in Seattle and other cities makes
it essential for property owners to understand co-insurance.


What is co-insurance?
Co-insurance is easier to understand with an example. Imagine an office building in downtown Seattle that would cost $100 million to rebuild is covered by a property insurance policy with an 80% co-insurance clause. That means you, the owner, are required to insure the property for at least $80 million. If you do, and you suffer a loss and file a claim, your claim will be paid in full minus the deductible.
If, however, you insure the building for less than 80% of the reconstruction cost and you suffer a loss, your claim payment is reduced. Let's say your property is insured for $40 million at the time you make a claim. That's 50% of the required $80 million, so your claim payment is reduced by 50% minus the deductible.
Related:
The connection between co-insurance and rising property values
Now, let's consider what happens when reconstruction costs increase. A building in downtown Seattle built for $100 million a few years ago could require $120 million today. If you maintain $80 million in coverage, you no longer meet the 80% co-insurance requirement, which would require $96 million in coverage. If you suffer a loss, your payment would be reduced.
Many — but not all — property insurance policies account for property reconstruction cost increases. If you have commercial property insurance, it's important to know how your policy works, both with respect to changes in the cost to rebuild and co-insurance.
Market value versus replacement value and why it matters
It's also important to understand the difference between market value and replacement cost, which are rarely equal. Market value is what you can sell your property for. Replacement cost is just what it sounds like: the cost to replace a building. Replacement cost includes costs you might not have thought of, including any necessary demolition, permits and upgrades to comply with new codes, such as more stringent environmental or seismic requirements.
Insurance companies use replacement costs when writing policies, but property owners often believe replacement values should be lower than the insurance company estimates.
This divergence happens for two reasons.
Owners sometimes believe that, if they had to replace a building, they would be able to secure favorable prices from contractors they know and have worked with before. That may be true in theory, but many factors affect what contractors charge. In the midst of a commercial property boom, contractors are less likely to give discounts. They're competing with all the other busy contractors for employees and typically have to pay higher wages to attract workers. They may also have to pay higher prices for materials. That translates into higher costs for all customers.
Another factor affecting replacement values that owners rarely consider is what happens when catastrophe strikes. For example, if an earthquake hits San Francisco and damages or destroys many buildings at once, demand for contractors to rebuild will surge, leading to higher prices. Insurance companies must consider these scenarios when estimating replacement value. After all, no one can predict when a catastrophe might happen or how big it might be.
When property owners buy policies with low replacement costs, they may find they have less coverage than they need when they suffer a loss, especially when construction costs are jumping, either due to a building boom or a catastrophe.
What to do if you have commercial property insurance
If you have commercial property insurance and have questions about co-insurance or rising property values, ask your agent. You can also:
Read your policy thoroughly so you understand it.
Check your policy to see if you have co-insurance.
Check to see if your policy includes automatic adjustments for property values.


Bryan Stanwood, CPCU, ARM, AIDA, is WSRB's Vice President and COO. He has more than 20 years of property and casualty insurance experience and extensive expertise in managing high-performing insurance sales and underwriting departments.
[1] Curbed Chicago, https://chicago.curbed.com/maps/high-rise-tower-skyscraper-construction-map
[2] San Francisco Business Times, https://www.bizjournals.com/sanfrancisco/news/2018/11/06/75-largest-construction-projects-bay-area-chase.html
[3] The Seattle Times, https://www.seattletimes.com/business/real-estate/seattle-construction-still-booming-and-wont-end-anytime-soon/
[4] Turner Construction, http://www.turnerconstruction.com/cost-index