Congratulations to our friends at The Idaho Surveying and Rating Bureau on 100 years of serving the citizens of Idaho! In honor of this milestone, let's look back at the bureau's history, from its genesis to the present day.

The story of ISRB starts in 1905 in San Francisco.
Prior to 1905, the insurance industry lacked regulation, and competition between fire insurance agents drove premiums down. This period was marked by large fires which wiped out large swathes of American cities like Chicago, Seattle, Boston, Portland, Spokane, and others. Many insurance companies went bankrupt, lacking the capital to pay incoming claims and eroding trust in the industry. And as cities were being rebuilt, serious effort needed to be put towards ensuring large-scale fire would not occur in the future.
It was during this tumultuous period that the Board of Fire Underwriters of the Pacific (BFUP) was founded. The BFUP was formed to reduce fire risk throughout the Pacific region, serving the states of California, Oregon, Washington, Montana, Nevada, Utah, and Idaho. The mission of the BFUP was to codify fire protection standards and promote insurance best practices.
A wave of standardization throughout the insurance industry followed, with many of their standards, drawn up and disseminated to insurance professionals, adopted by fire underwriter associations across the country. The BFUP developed a system of rating buildings and other properties based on factors such as construction materials, fire protection measures, and occupancy. These ratings helped insurers determine appropriate premiums based on localized risk. The BFUP-led quest for standardization helped insurance companies ensure profitability and stability while protecting people and their property.
It was from this fertile soil that ISRB sprouted and grew.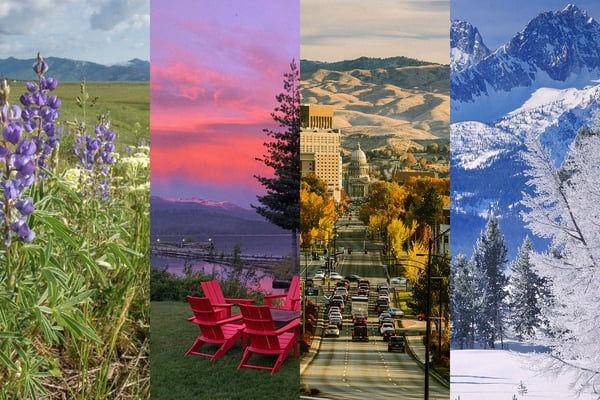 Building on the standards and practices of the BFUP, the Idaho Fire Insurance Rating Bureau (IFIRB) was formed as an Idaho-specific organization. Their mission was to provide accurate property and casualty insurance information regarding properties in Idaho.
The 20th century saw IFIRB grow and hone its abilities, eventually rebranding as the Idaho Surveying and Rating Bureau (ISRB), and incorporating in 1947. Since that time, ISRB has served much the same role in Idaho as WSRB does in Washington, with core functions including:
Collecting and analyzing property data throughout the state of Idaho.
Providing accurate property information to insurers, including loss cost quotes, public protection classes, and BCEGS©.
Providing insurance filing services to insurers, including forms, rules, and loss costs for various lines of business.
Maintaining accurate insurance rating manuals and supplementary tools for use by insurers.
Offering educational and training resources for insurance professionals.
Promoting fire safety, building codes, and other policies that benefit property owners and insurers.
Delivering consistent, high-quality customer service.


ISRB Mission Statement:
We are a trusted source of impartial insurance information that is delivered efficiently, courteously, and professionally from facilities in Idaho where we can best serve its citizens.
As their mission statement says, ISRB is dedicated to the people of the state of Idaho; everything they do as an organization aims to protect people and property throughout the state, from Bonners Ferry to Pocatello. We look forward to seeing where the next 100 years take them!