In May 2023, current Washington state Insurance Commissioner Mike Kriedler announced he would not be seeking reelection in 2024. "It's time for someone else to step forward and carry on this agency's important consumer protection work," he said in a statement.
As we inch closer to the 2024 election, we hope to highlight the importance of this integral role and better inform the public regarding their civic duty.
About the OIC
We protect consumers, the public interest and our state's economy through fair and efficient regulation of the insurance industry.
The Office of the Insurance Commissioner (OIC) was originally created in 1889 to register all insurance companies doing business within Washington state. Since that time, the mission of the OIC has changed, expanding to oversee the insurance industry, guarantee that companies, agents, and brokers abide by the rules, and provide strong consumer protection.
The OIC's goal is to ensure that all citizens of Washington have access to insurance, and that premiums are fair, non-discriminatory, and in line with state laws and regulations; they provide a wide range of services aimed at accomplishing this goal:
Ensuring affordable costs for consumers by thoroughly reviewing insurers' proposed rates.
Addressing inquiries and investigating issues from over 100,000 consumers annually, including operating a Criminal Investigations Unit (CIU).
Securing millions of dollars every year for consumers facing insurance disputes or delays.
Licensing and auditing the 34 insurers headquartered in Washington, as well as monitoring the activities of the other 2,439 insurers conducting business in the state.
Evaluating, licensing, and monitoring over 180,000 individuals and businesses engaged in insurance sales within the state.
Accumulating over $1.2 billion biennially to contribute to the state's general operating budget.
Operating a network of Statewide Health Insurance Benefits Advisors (SHIBA) volunteers who offer guidance and support to thousands of consumers on matters related to healthcare.
2024 Election
Current Commissioner Mike Kriedler's departure opens the field for new candidates, presenting an opportunity for fresh perspectives, ideas, and policy agendas aimed at shaping the future of insurance regulation in Washington.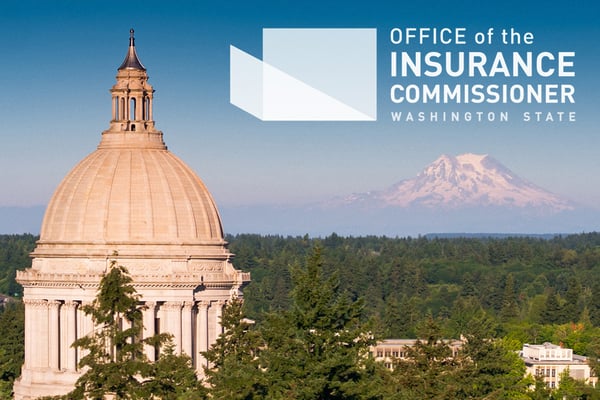 The insurance commissioner wields significant power, with the ability to enact reforms that can directly impact the affordability, accessibility, and quality of insurance coverage for individuals, families, and businesses across the state. This includes addressing issues such as premium rates, coverage options, claims handling, and consumer protections.
Illustrated by dramatic shifts in California and Florida, the insurance industry remains in a state of constant change. It's up to the insurance commissioner and their team to navigate emerging challenges – the increasing use of technology, evolving healthcare landscape, climate change-related risks, and cybersecurity concerns – and make informed decisions that protect the interests of both consumers and insurers.
It's our goal to inform voters in Washington about the position, its responsibilities, and the impacts it has on the day-to-day life of insured individuals throughout the state.
More information and resources