It's nearly 2021, and you're probably looking forward to this new year more than usual. To help you plan for the coming year, which we all hope is full of new adventures and time spent together, we've created a calendar featuring beautiful, distinctive buildings from across Washington state.
Every month, you'll be greeted by a lovely photograph and interesting facts you can share. You might spot a place that's close to home or one you'd like to go visit. We've designed every calendar page so a new month brings you something pleasing to look at and intriguing to read.
Like everything we do at WSRB, this calendar was a team effort. People across departments suggested buildings we could feature, and others stepped into take several of the photos. Below, we share a few interesting tidbits about each building (read more in the calendar) and give credit for WSRB team member contributions.
Don't have your calendar yet? Click

here

to download.
January: The Hastings Building in Port Townsend
Love Victorian architecture? Head to Port Townsend, where you'll find not only the Hastings Building but also an entire downtown commercial center featuring several fine examples of the architectural style.
February: Alexander Hall at Seattle Pacific University
Originally called "Red Brick Building," what's now called Alexander Hall was designed by an Englishman named John Parkinson. Five of his children went on to attend Seattle Seminar — which, after several name changes — is now Seattle Pacific University.
March: The Liberal Arts Quadrangle at the University of Washington
All seven buildings bordering the Quad are in the same style, known as collegiate gothic, though they were designed by three different architectural firms and built over the course of four decades.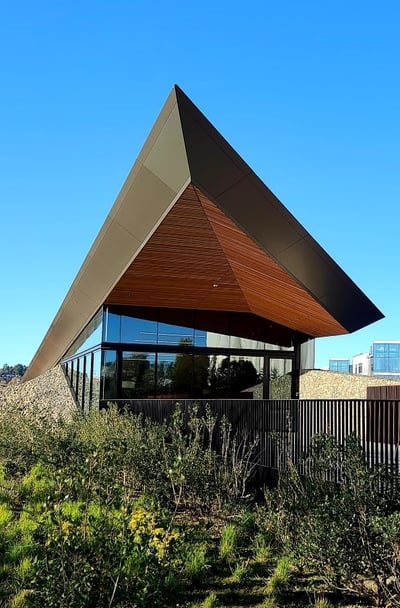 This building on the new Expedia campus on the Seattle waterfront
is featured in the 2021 WSRB Calendar for September.
April: The Gorge Powerhouse in Newhalem
The powerhouse is part of the Seattle City Light company town of Newhalem, which is just south of Ross Lake in the North Cascades. Pay a visit to the area to not only tour the powerhouse but also immerse yourself in nature on the nearby hiking trails and the local campgrounds.
May: Marion Oliver McCaw Hall in Seattle
Before or after you visit the hall for a performance by the Seattle Opera or Pacific Northwest Ballet, you can stop by the Space Needle, Museum of Pop Culture (MoPOP), Pacific Science Center or Chihuly Garden and Glass, all of which are part of the nearby Seattle Center.
June: Manresa Castle in Port Townsend
Visit this picturesque hotel not just for the views but also for the close proximity to local breweries, wineries, a farmers market, a creamery, a marine science center and more attractions, including a 100-acre golf course.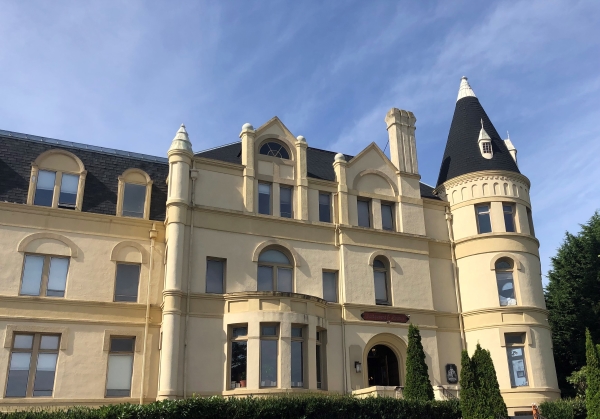 Manresa Castle, now a hotel, is featured in the 2021 WSRB Calendar for June,
and it's near many Port Townsend attractions.
July: The Davidson Building in Ellensburg
The distinctive red building is home to many local businesses, including an art gallery, an alpine sporting goods store and an insurance agency. It also features a mural showing a phoenix rising from ashes, a reminder that construction finished after a fire that burned 10 blocks on Independence Day 1889.
August: Old Timers Plaza in Toppenish
The star of this photograph is actually the mural rather than the building it's on. Painted by Robert Thomas — an artist from Kooskia, Idaho — the mural shows people moving produce, such as wheat and melons, in the early days of the town.
September: Expedia Campus in Seattle
This building is just one on the campus Expedia is constructing next to Elliott Bay Park in the Interbay neighborhood. Take a long stroll past the campus and head south along the waterfront. Though the park changes name a few times along the way, you can walk all the way to Pier 70 and the Olympic Sculpture Park.


October: Salish Lodge in Snoqualmie
If you love local food, this is the place for you. The hotel restaurant and spa both make use of organic herbs grown in a garden on the grounds. The restaurant serves vegetables from an on-site garden as well as honey from on-site hives, which is poured over breakfast biscuits.
November: Smith Tower, Seattle
The Pioneer Square icon opened on Independence Day 1914, and in 1947 KING Broadcasting was founded on its twenty-first floor. Now, the tower is home to offices, special events space, a bar and observatory.
December: Patsy Clark Mansion, Spokane
This building features interior and exterior luxuries, including sandstone imported from Italy, custom Tiffany lamps, silk curtains and 14-foot stained glass windows. Since its completion in 1889, the mansion has served as a private residence, inn and restaurant and is now home to offices and an events center.

The following WSRB employees suggested buildings or took photos for the calendar: Vice President of Marketing, Sales & Customer Experience Sandra Bird; Fire Protection Analyst Daryl Girnus; President & CEO Karl J. Newman; Manager, Risk Data & Analytics Joe Nolan; Marketing & Design Specialist Kaylie Santos and Content Writer Elizabeth Whalen.

Everyone at WSRB is sending you the best wishes for the new year, and we hope you enjoy the 2021 calendar.
---