A warm summer's evening spent enjoying the Seattle skyline, a grilled feast and the company of good friends. When residents move into apartment and condominium buildings with rooftop decks, that's the scene playing in their minds. Most of the time, that's also the reality, at least when the weather cooperates.

Sometimes, though, fire spoils the fun. When it does, it's costly. Here is an example: between September 2017 and August 2019, the Seattle Fire Department (SFD) responded to nine fires on residential rooftop decks, totaling nearly half a million dollars in damage.

What's causing these fires? Often, the immediate cause is improperly disposed of smoking materials, but many factors combine to make these fires damaging to both property and residents' recreational plans.
Fuel accumulates with warmer, drier weather and more deck usage
During the fall, winter and spring, frequent rainfall keeps plants on rooftop decks adequately wet. When summer arrives and the weather dries, so do plants, creating fire fuel in the form of dry foliage. Beauty bark, often used in planters, also dries out in the summertime and adds to the fuel stock.

Along comes a partygoer who deposits a smoldering cigarette in a planter, and fire can easily ensue. In September 2017, smoking materials discarded in a dry planter caused a fire resulting in $72,000 in damage to an apartment building in the University District.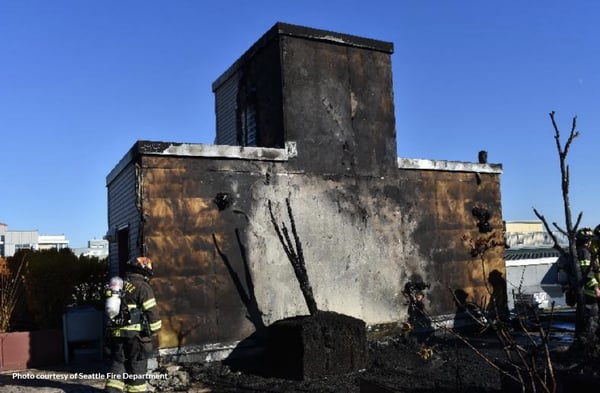 A rooftop deck fire in Seattle's University District, started by improperly
disposed smoking material, caused $72,000 in damage.
As residents visit rooftop decks more frequently in the summer, trash also accumulates, adding another fuel source. Everything from candy wrappers tossed in a planter to paper grocery bags stuffed into a garbage bin can ignite with the simple addition of a still-hot cigarette.

These fires then typically grow due to the plastic used in planter boxes, garbage bins, furniture, or decking floorboards. Plastics are combustible, and once they begin burning, they ooze and flow much like oil does, according to Captain David M. Powers, of the SFD Fire Investigation Unit.

Managers at several of the buildings affected by rooftop fires told SFD fire investigators that smoking was not allowed on the roof. Yet, Powers said, his team frequently finds cigarette butts in planters and trash bins. He recommends posting "No Smoking" signs and providing non-combustible repositories for cigarettes.

"Managers sometimes worry that will just encourage smoking, but in my opinion, most smokers will use an ashtray or repository if they're given an option," Powers said.
Rooftop deck fires may take longer to detect and put out
Other factors make rooftop deck fires especially likely to cause significant property damage.

Fires ignited by a cigarette may start small but burn undetected for hours. Unlike the rest of a building, a rooftop deck doesn't usually include smoke alarms. If the building has an automatic sprinkler system, the deck isn't covered.

Most of the rooftop fires SFD has responded to were reported by someone in an adjacent building who noticed the flames or someone who visited the roof and discovered the fire after the party ended.

Even if someone notices and reports a rooftop deck fire soon after it starts, firefighters need more time to reach a rooftop than most other parts of a building, giving the fire more time to burn the roof, deck, furniture, and other amenities.

"There's definitely an access issue, especially with some of the taller buildings," Powers said. "It can be several minutes from the time firefighters arrive at a building to the time they can intervene with a fire."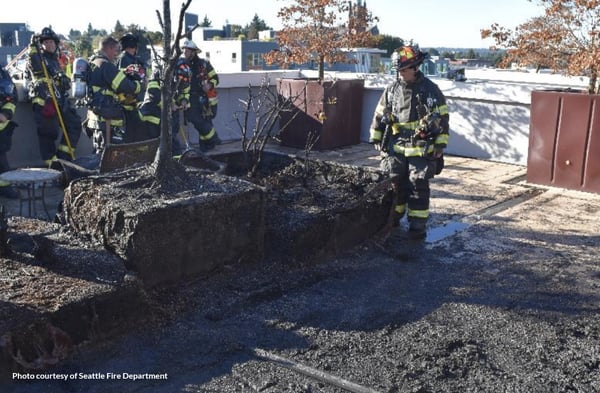 A Seattle firefighter examines a planter burned in a rooftop deck fire.
Prevent rooftop deck fires with these tips
If you own or manage a building with a rooftop deck, consider these ways to reduce the risk of a fire:
Post "No Smoking" signs and provide non-combustible repositories for cigarettes.
Install metal garbage cans and empty them regularly during the summer.
Water plants in the summertime to reduce fuel.
Choose non-combustible furniture.
Make sure the building has adequate fire extinguishers and consider installing one on the rooftop deck or near the entrance to it.
If you live in a building with a rooftop deck or attend a party at one:
Obey any smoking bans.
If you do smoke, properly extinguish and dispose of your smoking material.
Look around for dry foliage or accumulated trash, and notify building management if you notice either.
If you grill on your rooftop deck, do so safely

.
---