It's unfortunate but true: people get fed up with smoke alarms and disable them. Most often — 73% of the time1 — we simply want to stop nuisance alarms caused by burned food. If people forget to re-enable the alarm, though, they're putting themselves and property at risk.
The folks at Underwriters Laboratories (UL), who set standards for consumer products, recognize this problem and have updated their standards to address it. To earn the UL mark, smoke alarms will soon have to distinguish between smoke from fire sources and smoke from cooking sources.2 The goal? To reduce nuisance alarms and, by extension, the number of people disabling their smoke alarms.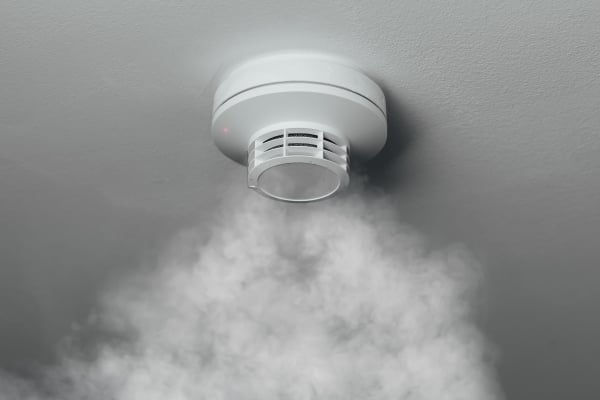 These changes also apply to smoke detectors. Yes, smoke alarms and smoke detectors are different. A smoke alarm senses smoke and responds by beeping, blaring or otherwise alerting you. Smoke detectors also sense smoke, but rather than emitting sound, they connect to a central control unit. Based on input from the detectors, the control unit sounds the alarm. Smoke alarms are typically found in homes, and detectors are typically found in commercial buildings.
The new UL standards go into effect May 29, 2020, meaning that's the date manufacturers must start making alarms and detectors meeting the updated standards. There's another important date related to the updated standards: January 2022. That's when the National Fire Protection Association (NFPA) standards will require smoke alarms or detectors meeting the new UL Standards be installed in buildings.
Related:
Updating standards to keep up with building and furniture trends
Cooking nuisance alarms have occurred since smoke alarms and detectors were first installed in homes and offices. That hasn't changed much since the initial publication of the UL standards in 1976. Something else, has changed, though: the contents of our homes and offices.
First developed during World War II, polyurethane foam is now very common in furniture, flooring and even appliances.3 The foam is derived from oil and burns faster than wool, cotton and other natural fibers used in furniture, and it generates a lot of heat and smoke if it does catch on fire. But, the smoke from polyurethane foam is different than that from other materials.
The new UL standards address that difference by requiring smoke alarms and detectors to pass two tests showing they can effectively sense smoke from polyurethane foam fires.
Smoke alarms and detectors meeting the new standards will become more widely available after the May 2020 deadline, and they will bear a UL Certified label with the text "Helps Reduce Cooking Nuisance Alarms."4
The new standards will help make us all safer in the future, but now is a good time to double-check the smoke alarms in your home. Three steps to take today:
Test

all

smoke alarms and repair

them

if necessary.

Check the age of all smoke alarm

s

. Each full unit — not just the battery — should be replaced every 10 years.

Check the smoke alarm manufacturer's maintenance guidelines and be sure you're following them.
Robert Ferrell, P.E., is WSRB's Vice President of Public Protection. He leads the team that manages the insurance rating of cities, fire districts and building departments throughout Washington state. He has more than 25 years of experience in fire insurance rating.   
[1] "Enhanced Smoke Alarms and New UL Testing Standard," presentation at the 2019 NFPA Conference, https://www.abstractsonline.com/pp8/#!/7855/session/46
[2] UL, https://www.ul.com/news/new-smoke-alarm-requirements-and-features-coming-soon
[3] American Chemistry Council, https://polyurethane.americanchemistry.com/History/
[4] UL, https://www.ul.com/news/new-smoke-alarm-requirements-and-features-coming-soon
Topics: Home safety, Home Fire Protection