Fourth of July is nearly here, the time of year to celebrate this beautiful land with friends, family, fireworks and plenty of good food.
It's also time to remember that some of our favorite Independence Day activities can be quite risky. Let's explore how you can protect yourself, your home and those you care in order to ensure a fun and safe holiday.
Fourth of July safety

Fire safety is important every day of every year, but especially so around Independence Day, when some of the most popular activities — including grilling and lighting off fireworks — raise the risk of wildfires, structure fires, burns and other injuries.
As drought conditions continue to grip the Western U.S., reducing fire risk is particularly important. A stray spark from a firework, campfire or grill could ignite your lawn, your neighbor's lawn or that grassy vacant lot across the street and the resulting fire could damage your home or even start a wildfire. In fact, the Fourth of July is the peak day for firework-caused forest fires; the second most ignitions occur on the fifth of July.1
Take a few minutes now to review essential safety tips for Independence Day and every day.
Set off fun, not fires
In the month around the Independence Day holiday, an average of 243 people go to the emergency room every day with fireworks-related injuries.2
Many localities in Washington state and beyond have strict regulations regarding firework usage. Before lighting off your own backyard show, be sure to check first whether they're legal in your area. Rules can change from year to year - what was legal last year might not be legal this year. The penalties for breaking the rules can be severe: for example, in Spokane County, you could spend up to 90 days in jail, be fined up to $1,000 or both for violating fireworks ordinances.3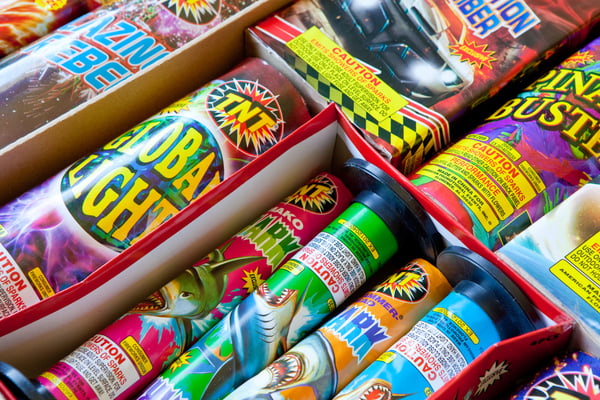 Fireworks can be extremely dangerous if not handled carefully.


If fireworks are a part of your celebration plans, please follow these fire safety tips: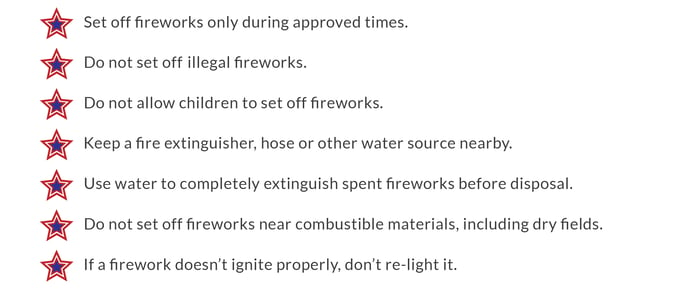 Remember, if you want to enjoy fireworks without the work or worry, there are many public displays you can attend. Check out this list of firework displays taking place in the greater Seattle-Tacoma area this year.
Barbecuing the right way
The Fourth of July is peak grilling season, a delicious time with lots of potential dangers. Here are a few data points to illustrate the risk. Between 2014 and 2018:

To help you enjoy your barbecue chicken, burgers, kebabs, vegetables and everything else without worry, follow these grill safety tips: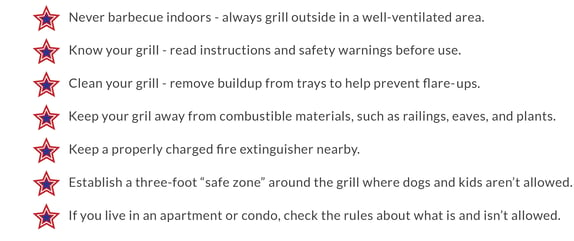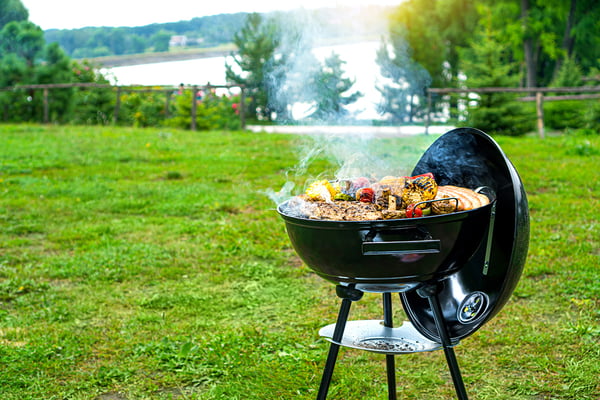 The Fourth of July can create fire risk, so be sure to barbeque safely.
If you have a gas grill:

If you have a charcoal grill:

Don't forget to have fun
Though the Fourth of July requires an extra level of preparation in order to ensure a safe time for all, that does not mean that you should forget to enjoy the day. Remember, Independence Day is as much about safety as it is about having fun, creating memories with loved ones and celebrating the beauty of the place we all call home.
From all of us here at WSRB, happy Fourth of July!
---
[1] National Fire Protection Association, https://www.nfpa.org/-/media/Files/News-and-Research/Fire-statistics-and-reports/WUI/osbrushgrassforest.pdf
[2] Consumer Product Safety Commission, https://www.cpsc.gov/safety-education/safety-guides/fuel-lighters-and-fireworks/fireworks-injuries
[3] Spokane County Code, https://library.municode.com/wa/spokane_county/codes/code_of_ordinances?nodeId=TIT3BUST_CH3.17FI_3.17.090VIEN
[4] National Fire Protection Association, https://www.nfpa.org/News-and-Research/Data-research-and-tools/US-Fire-Problem/Home-Grill-Fires
[5] National Fire Protection Association, https://www.nfpa.org//-/media/Files/News-and-Research/Fire-statistics-and-reports/US-Fire-Problem/Fire-causes/osGrills.pdf

[6] Propane 101, https://www.propane101.com/propanecylinders.htm