Our new Earthquake Risks tool gives you easy access to information on multiple earthquake-related data points for any location in Washington state.
One of those factors is susceptibility to soil liquefaction. In previous blog posts, we've talked a little about what soil liquefaction is and the damage it can cause. Today, we'll go into more detail about liquefaction and what can be done to reduce its potential impact.
What is soil liquefaction?
Soil liquefaction happens when soil that's solid under normal circumstances is disturbed by an earthquake. If the soil has enough water in it, the shaking mixes the soil particles and water together, causing the soil to lose its structural integrity and act like a liquid.1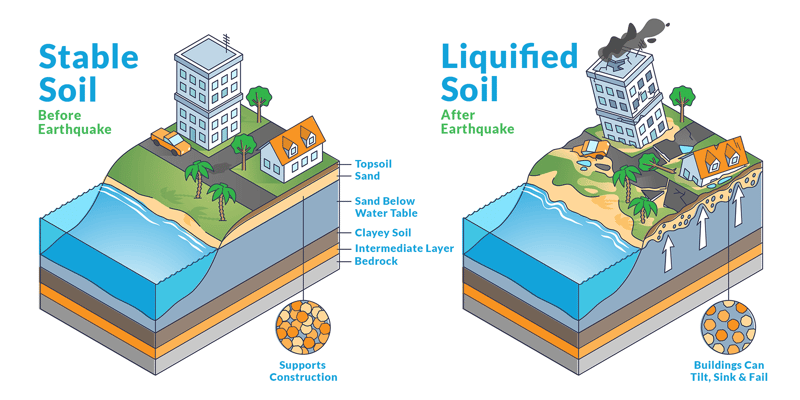 What happens to property when soil liquefies during an earthquake?
Past earthquakes around the world and here in Washington state have caused liquefaction that sometimes resulted in severe property damage.

Scientists attribute the collapse of buildings in Indonesia to liquefaction caused by the 2018 earthquake there.2 In the February 2011 New Zealand earthquake, scientists say liquefaction contributed to property damage being more severe than expected, even to new buildings constructed according to modern building codes.3 That same year, a major earthquake struck Japan, and liquefaction caused buildings to sink as much as four feet.4

Sometimes, liquefaction causes damage in areas many miles away from a quake's epicenter, even in a quake less severe than the one in Japan. For example, the 2001 Nisqually earthquake was a magnitude 6.8, compared to 9.0 for the 2011 Japan quake. The Nisqually epicenter lay southwest of Tacoma, just off the coast of Anderson Island.5 Yet, liquefaction-related damage occurred at the northern end of Boeing Field, near Green Lake6, and on Harbor Island, where multiple cracks appeared in pavement and a water pipe broke.7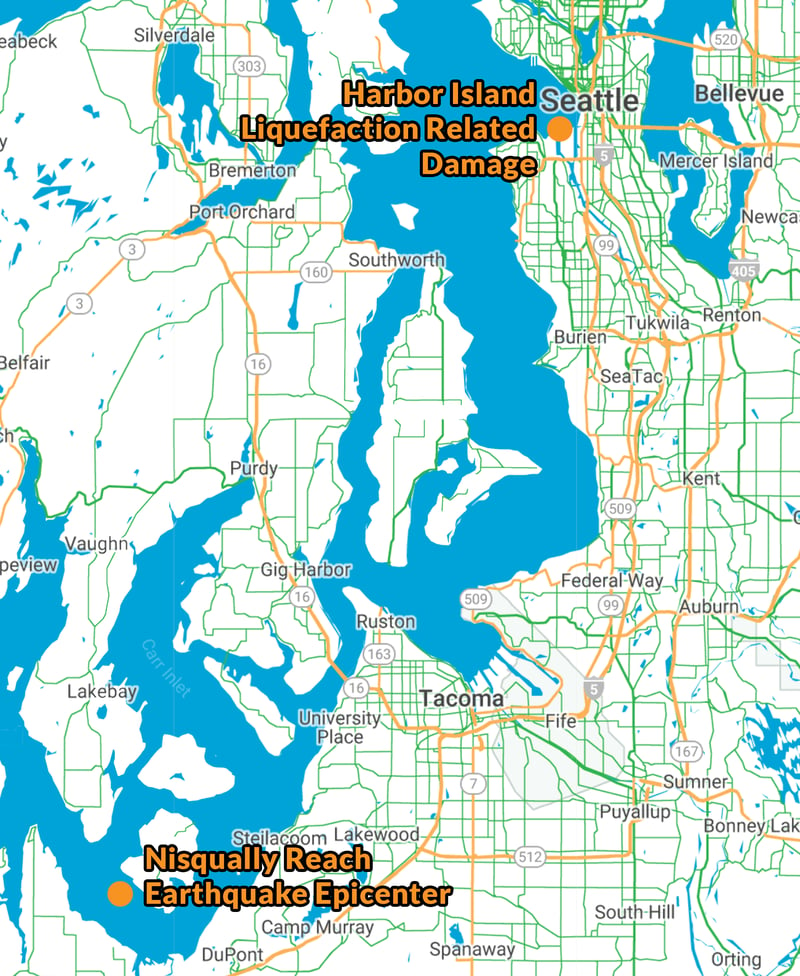 The 2001 Nisqually earthquake caused liquefaction-related damage as far away as Harbor Island.

The Pacific Northwest Seismic Network has its own illustration, showing liquefaction attributed to the Nisqually earthquake in Mason, Thurston, Kitsap, Pierce, and King counties.

There are no readily available cost estimates specific to liquefaction-related damages from the Nisqually quake or the others mentioned above. However, estimated damages from the Nisqually quake totaled between $1 billion and $3 billion.8 The Japanese government estimated the 2011 quake caused more than $200 billion in damages, not including the costs related to the tsunami that followed the quake or the nuclear plant meltdown.9
What makes soil susceptible to liquefaction?
Susceptibility to soil liquefaction depends on several factors, including:
Soil grain texture.

Soil compaction.

Depth of groundwater.


Drainage.
It's important to note that liquefaction susceptibility maps and the data we provide in our Earthquake Risks Tool are guides. They help you identify properties built on soil that is likely to liquefy and cause potential damage. That information, in turn, helps you identify customers who most need earthquake coverage and helps you educate them about their risk.

However, the maps and data are not perfect predictors of liquefaction risk. Ultimately, there is no substitute for a geotechnical evaluation of a site that would include conditions unique to it.10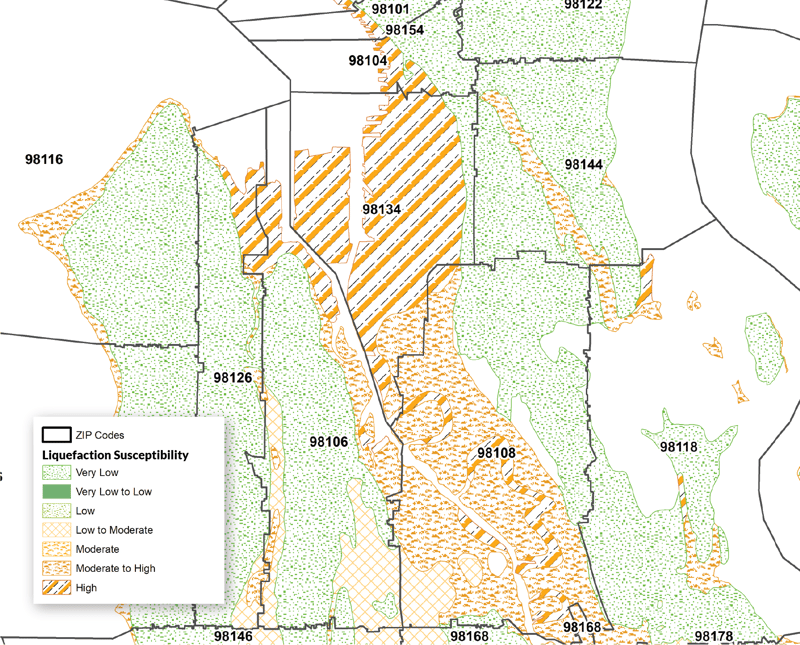 Soil liquefaction susceptibility can vary significantly within a small area, such as these ZIP codes.
What can be done to make properties safer?
For properties built on soil prone to liquefaction, there are multiple ways to mitigate the risk of property damage. Options include installing columns in the ground, compacting the soil, and other processes that are beyond the scope of this blog. What matters to insurance professionals is whether these measures help reduce property damage risk. Evidence from the 2001 Nisqually quake suggests they do.

A study from Missouri University of Science and Technology evaluated the performance of 10 sites that had undergone various types of ground improvement before the quake and found, "All sites performed extremely well, despite evidence of liquefaction and minor structural damage nearby."11

The paper also describes in detail the performance of three sites, including a hardware store in the South of Downtown (SODO) district built on liquefiable fill that was improved in 1992 to reduce liquefaction risk.

According to the study, the store suffered no damage and no cracks in the floor and re-opened shortly after the earthquake. Sidewalks and roads just outside the improved area, however, had cracks as long as 50 meters. Nearby buildings, also outside the improved area, had cracked floor slabs and cracking/collapsed unreinforced masonry.
What can insurance professionals do about liquefaction risk?
The first step is to understand the susceptibility of the soil a property is built on. You can find that data quickly and easily with our new Earthquake Risks tool - simply login to WSRB.com to try it.

Agents can use the information, along with the other data points in the tool, to better understand the property damage risk customers and potential customers face. Agents can then educate customers at higher risk of property damage about the need for earthquake coverage.

Underwriters can look at the data to better understand the risk they have on their books and determine whether mitigation options, such as those made to the SODO hardware store, are called for to reduce that risk.

For more information about how to use the Earthquake Risks tool, click here. If you've tried the tool and have feedback on how we can improve it, fill out the survey in the tool.
---
[1] Encyclopedia Britannica, https://www.britannica.com/science/soil-liquefaction
[2] The Guardian, https://www.theguardian.com/world/2018/oct/02/indonesia-earthquake-soil-liquefaction-blamed-for-building-collapses
[3] The Guardian, https://www.theguardian.com/weather/2011/feb/23/new-zealand-christchurch-earthquake-geology
[4] Oregon State University, https://today.oregonstate.edu/archives/2011/apr/report-cites-%E2%80%9Cliquefaction%E2%80%9D-key-much-japanese-earthquake-damage
[5] Central Washington University, https://www.geodesy.cwu.edu/monitor/EQ/
[6] University of Washington, https://www.washington.edu/news/2001/04/17/damaged-chimneys-and-unexpected-liquefaction-from-nisqually-temblor-yield-earthquake-insights-uw-scientists-say/
[7] Pacific Earthquake Engineering Research Center at the University of California, Berkeley, https://apps.peer.berkeley.edu/publications/nisqually/geotech/liquefaction/waterfront/index.html
[8] Seattle Post-Intelligencer, https://www.seattlepi.com/local/seattle-history/article/Nisqually-earthquake-18-year-Seattle-magnitude-6-8-13653074.php
[9] Reuters, https://www.reuters.com/article/japan-economy-estimate-idUSL3E7HN3CM20110624
[10] Washington State Department of Natural Resources, https://www.dnr.wa.gov/programs-and-services/geology/publications-and-data/washington-geologic-survey-publications-catalog
[11] Missouri University of Science and Technology, https://scholarsmine.mst.edu/cgi/viewcontent.cgi?article=2412&context=icchge