Western Washington is one of the most earthquake-prone places in the country,1 yet only 11.3% of homeowners in the state have earthquake insurance, and just 43.2% of commercial properties have coverage.2
In other words, a lot of Washingtonians need to at least consider getting earthquake coverage. For insurance agents, that creates opportunities to expand relationships with existing customers and add new customers.

To make the most of these opportunities, agents need to do two things: (1) efficiently identify potential customers most in need of earthquake coverage and (2) effectively educate those customers about their earthquake risk. That means understanding where earthquake risk resides and how that risk relates to potential property damage.

Many prospective customers likely think about their earthquake risk based purely on how far their property is from the nearest major fault line. Yes, distance to fault line is an important risk factor for earthquake-related property risk, but it's far from the only one. Let's explore other key risk factors so you can give your customers a more comprehensive picture of their earthquake risk.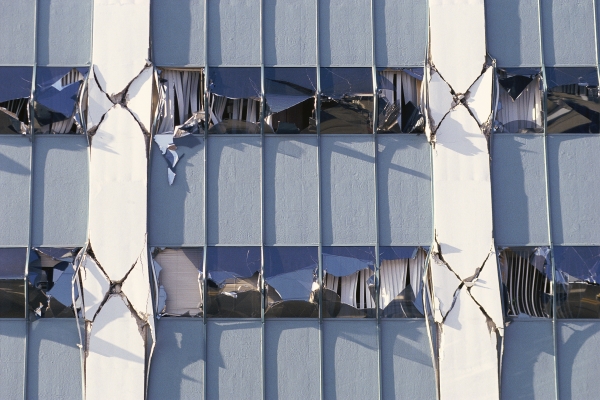 Distance to fault line is just one factor to consider when assessing potential
earthquake property damage.
Looking beyond distance to fault line
Other risk factors influencing property risk from earthquakes include the area's Modified Mercalli Intensity Scale (MMI), lahar presence, tsunami risk and susceptibility to soil liquefaction.
Modified Mercalli Intensity Scale
The MMI measures, at a specific location, the strength of shaking from an earthquake, from not felt (MMI I) to extreme (MMI X). Each point on the MMI scale, which uses Roman numerals, also corresponds to the observed effects of the shaking. For example, an MMI of V — moderate shaking — awakens many people, breaks some dishes and windows and overturns unstable objects.3
Lahar
Lahar is a type of mudflow that can take on the consistency of wet concrete and flow downstream at 30 kilometers per hour.4 Lahar mudflows usually result from volcanic activity and are potentially very powerful. The 1980 eruption of Mt. St. Helens triggered a lahar mudflow that reached a speed of 100 kilometers per hour, destroyed nearly 200 homes and more than 185 miles of roads and damaged bridges and railways.5 Earthquakes near a volcano can also trigger a lahar avalanche6 and cause significant property damage.
Tsunami Risk
Tsunami risk applies to some coastal areas that could be inundated with a tidal wave resulting from an earthquake. In fact, models show that when a major earthquake hits Washington state, the resulting tsunami will cause a large share of the total property damage.7
Soil liquefaction
Susceptibility to soil liquefaction measures how likely soil is to liquefy or be saturated during an earthquake. Liquefied soil acts like quicksand.8 In past earthquakes, structures built on soil that liquefied tipped over as much as 60 degrees. Liquefaction has also broken water mains, making fighting fires caused by an earthquake especially difficult.9 When an earthquake strikes, structures built atop soil prone to liquefaction will likely suffer more damage than structures on less-susceptible soil.
Together, these factors give you a clearer, more comprehensive view of an individual structure's susceptibility to property damage than distance to fault line alone. You can access all of these elements for any address or latitude-longitude in Washington state in our new Earthquake Risks tool. Just login to WSRB.com for access, which is free for a limited time for all WSRB users.

For detailed instructions on how to use Earthquake Risks, click here.

You can also access the data in PropertyEDGE and find instructions on how by clicking here.
We want your feedback
We're introducing Earthquake Risks to make it easier for you to find valuable risk-assessment data. We want to know how well we've done that and what else we can do to help you. So, when you try the tool, please fill out the survey when you see it. We hope you'll share your thoughts so we can improve not just Earthquake Risks but also our existing products and new products we're working on for you.
---
[1] Time, https://time.com/3002710/earthquake/

[2] Seattle Times, https://www.seattletimes.com/seattle-news/science/survey-finds-only-11-3-of-washington-homes-have-earthquake-insurance/
[3] United Nations Office for the Coordination of Humanitarian Affairs, download report at https://assessments.hpc.tools/sites/default/files/km/Using%20MMI%20scale%20to%20calculate%20population%20exposed%20to%20EQ%20shaking-OCHA%20IMOs%20Guide.docx
[4] Pacific Northwest Seismic Network, https://pnsn.org/outreach/volcanichazards/lahars
[5] USGS, https://volcanoes.usgs.gov/volcanoes/st_helens/hazard_lahars.html
[6] Wikipedia, https://en.wikipedia.org/wiki/Lahar
[7] KOMO News, https://komonews.com/news/local/tsunami-alerts-will-give-you-30-minutes-to-get-60-miles-away-where-can-you-go
[8] Encyclopedia Britannica, https://www.britannica.com/science/soil-liquefaction
[9] PBS, https://www.pbs.org/newshour/science/in-earthquakes-liquefied-ground-can-topple-buildings-swallow-cars