Part VI of The Basics of Construction Classes series.
We've almost reached the proverbial top floor. Our Basics of Construction Classes series, as defined by the Commercial Lines Manual, is nearing its thrilling conclusion with Construction Class 6 Fire-Resistive (CC 6). As the name implies, this is the construction type best able to withstand the peril of fire.
The Commercial Lines Manual (CLM), Rule 15, defines the Fire-Resistive class as: "Buildings where the exterior walls and the floors and roof are constructed of masonry or fire-resistive materials having a fire-resistance rating of not less than 2 hours." Rule 15.B.6

You see examples of CC 6 throughout major cities. These are the buildings that characterize the beautiful skylines of New York, San Francisco, and, of course, Seattle.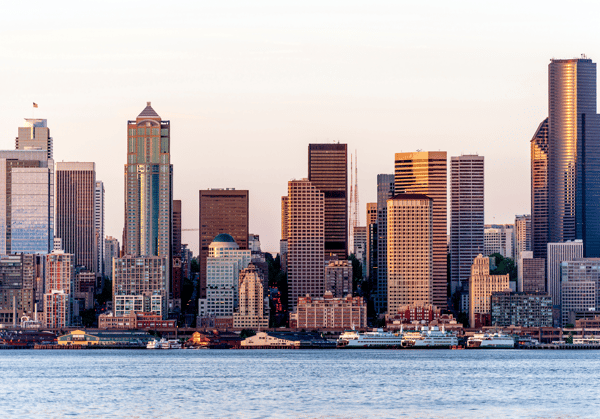 Seattle and other major cities have many buildings in construction class 6
Let's break down the components of CC 6
The exterior walls and structural frame will feature:
Structural, horizontal, and vertical load-bearing protected metal supports, including concrete units.
Hollow masonry no fewer than eight inches thick.
Solid masonry, including reinforced concrete no fewer than six inches thick.
Brick no fewer than six inches thick.
Assemblies with a fire-resistance rating of not less than two hours.
Non-load bearing panels or curtain sections can be a variety of materials and thicknesses.
With all the construction in Seattle, it's easy to see CC 6 buildings as they are being erected. While not all CC 6 buildings are skyscrapers, all skyscrapers are CC 6.
CC 6 floor and roof elements exhibit the following elements
Reinforced concrete with slabs no fewer than four inches thick.
Floor and roof assemblies with a fire-resistance rating of no fewer than two hours.
This is as simple as it sounds. Floors and roofs of a CC 6 building must be four inches thick or more, or they must have a fire-resistance rating of R.2 hours or more.

Even though this construction class is the most resistant to fire, CC 6 buildings are not fireproof. As recently as July 2017, a fire ravaged a 36-story high rise in Hawaii, causing several deaths and extensive damage.
Mixed construction classes
In this series, we have been focusing on pure examples of construction classes. But many buildings feature mixed construction classes. An understanding of construction class basics provides a good framework for classifying mixed-construction buildings.

Basement walls and floor areas, or the area on grade with a basement, are disregarded in determining construction class. Also, 33 1/3% is a key percentage to remember. If a building is constructed of two or more construction classes, use the lowest construction class over 33 1/3%.

For example, if a structure is 65% Joisted Masonry (CC 2) and 35% Frame (CC 1), the building will be classified as CC 1. The "weakest link" — combustibility — determines its classification.
Tips for classifying mixed-class buildings
Retail and habitational buildings frequently feature multiple construction classes. The ground-floor parking lot or first-floor retail space may be a concrete-type construction, while upper floors can be frame construction (CC 1) or unprotected metal (CC 3).
In multi-story structures, roofs may have wood decking, while the rest of the building is constructed from mostly non-combustible materials. This would only impact the construction class if the roof area is greater than 33 1/3% of the total structure.
As you can see, it can be a tad confusing to properly classify a mixed-construction building. To make sure you get it right, log in to request an inspection by one of WSRB's experienced Commercial Property Analysts. Inspections are included in your subscription, and they're easy to request. Find instructions here.
---