We all take for granted that, if a fire strikes, firefighters will respond to protect our homes and businesses from devastation. What many people don't realize is just how many of those firefighters are volunteers.
Nationally, 87% of fire departments are mostly or entirely volunteer, according to the Federal Emergency Management Agency.1 Here in Washington state, 84% of fire departments are partly or entirely volunteer based. Many of these volunteer-staffed departments are in rural areas and small towns without the resources to hire career firefighters.

The trouble is that fewer and fewer people are volunteering, and long-time volunteers are aging. As a result, many communities are short-staffed and can't fight fires as quickly or effectively as necessary. Public safety declines, and insurance rates may increase.

The lack of volunteer firefighters has grown so critical that many people in the firefighting field consider it a crisis.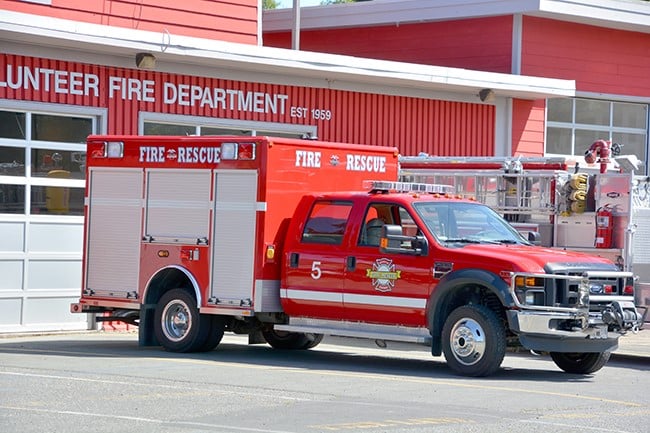 Volunteer fire departments need sufficient numbers of volunteers to operate effectively
What are the causes?
Time is scarce
The overall cost of living, and especially housing, has increased, and people are working more hours to keep up. In many households, both adults now work. After devoting time to their children, parents have fewer hours in the day to spend volunteering.
Training and certification requirements are stringent
In most places, volunteers must spend a substantial amount of time to learn the basics of firefighting and keeping themselves safe while on a call as well as essential emergency medical training.
Health concerns are growing
Firefighters are exposed to chemicals, including fumes released when furniture or mattresses burn, which may increase cancer risk.
Volunteer fire departments are under other pressures, too
Fire departments don't just fight fires
Many departments also respond to calls for emergency medical services, the cost of which is high and growing.
Equipment is expensive to buy and maintain
An air pack (or Self Contained Breathing Apparatus) for a firefighter to wear while fighting a fire costs about $5,000, and the necessary annual test to ensure it's working is $200. Personal protective equipment — a jacket, pants and helmet — costs up to $2,500 per set. A new fire engine runs around $500,000. Small fire departments need less protective and breathing equipment than big departments, but there's a minimum amount they do need, and they don't pay any less for each item. Small fire departments typically buy used fire engines, but even a used engine can be a significant cost to a volunteer department.
Funding mechanisms for fire departments are complex and vary by location
One funding mechanism, used in Washington state, is property taxes, which fund not just fire departments but also a wide variety of other public services, including schools, libraries and ports. The state restricts property tax increases,2 meaning fire department funding can't simply increase when the fire department needs more money.
A volunteer recruiting success story
There is some good news. A few fire departments are successfully recruiting and retaining volunteers by taking a new approach.

At Snohomish County Fire District 22 in Getchell, Washington, Fire Chief Travis Hots used to focus on recruiting local residents with families, but the time commitment was simply too much for many people. "We transitioned to focusing on people who are interested in starting as an apprentice and looking to ultimately land a full-time job as a fire fighter," Hots said.

Many recruits are recent high school graduates, but Hots has also recruited volunteers who want to change careers. One volunteer had worked for 20 years as a commercial tug boat operator. When he mentioned to an acquaintance he wanted to work in the fire service, she told him to look into volunteering for the Getchell fire district.

"We've established a name for ourselves as being a place for career development," Hots said. Getchell volunteer firefighters typically stay with the district for between one and five years. During that time, they're fully immersed in on-the-job training and have the opportunity to earn many certifications, including emergency medical technician (EMT), Firefighter 1 and Firefighter 2 certifications and the National Wildfire Coordinating Group Wildland Firefighter qualification.

All of that gives volunteers a leg up in the search for a career firefighting position. In the fourteen years Hots has run the Getchell district, about 80 volunteers have gone on to full-time firefighting positions. Getchell currently has 14 volunteers and 15 part-time paid firefighters as well as two career staff members — Hots and his assistant chief.

But Hots knows many other places are understaffed. "There aren't many all-volunteer departments left in this county. They're struggling to keep people, and they may have to shut the fire department down because they don't have people who want to join the organization anymore."
What can you do to help alleviate the volunteer firefighter crisis?
Hots encourages people who want — and have the time — to volunteer to do so. For those who can't commit to being a volunteer firefighter but still want to help, Hots suggests supporting your local fire district, starting with understanding how it's funded. When you know how your local fire district is funded, you can make well-informed choices when you see funding proposals, such as levies or bonds, on the ballot. To learn more about your local fire department, the first step is to call your closest fire station.

If you live in Washington state and aren't sure which fire district you live in, call WSRB customer service at 206-217-0101, and we will be happy to help.
---
Daryl Girnus is a fire protection analyst on WSRB's Public Protection team, to which he brings 20 years of active duty military experience in fire protection systems and procedures. He has analyzed the public protection capabilities of more than 200 fire departments in Washington state over the past six years and gained an intimate knowledge of the effects of volunteerism on the fire service industry.

[1] U.S. Fire Administration, a division of the Federal Emergency Management Agency, https://apps.usfa.fema.gov/registry/summary

[2] Washington State Department of Revenue, https://dor.wa.gov/get-form-or-publication/publications-subject/tax-topics/property-tax-how-one-percent-property-tax-levy-limit-works