Insurers have a long history of giving customer discounts for installing devices in their homes that reduce risk, such as alarm systems and automatic water shutoff valves. Today's smart home technologies are evolving quickly and giving consumers new ways to protect their property and belongings.
New Washington state regulations make it easier for insurance companies to encourage consumers to use both new tech and tried-and-true systems. These regulations, introduced in Washington State Substitute House Bill 2322 (HB 2322), allow insurers to give non-commercial property insurance customers up to $1,500 a year in risk-mitigation goods and services.
Under HB 2322, insurers can help customers mitigate many kinds of risks, including the big three facing homeowners and renters: kitchen fires, water leaks, and crime. Let's explore some high-tech options an insurer might want to offer customers to reduce these risks. Although some innovations cost more than $500, many cost much less. Some are under $10. Insurers, then, are likely to find at least a few options that both appeal to customers and help prevent major losses.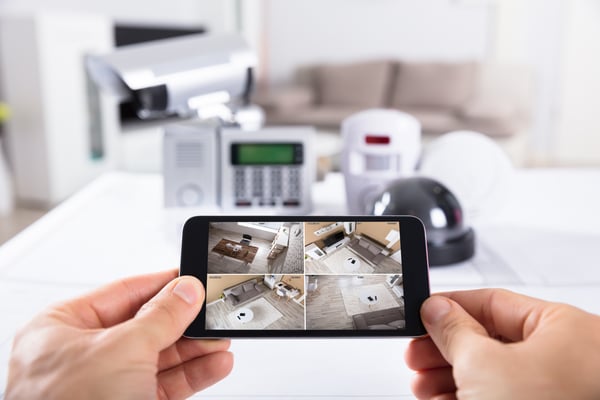 Insurers can give homeowners smart home devices under new Washington state legislation
Kitchen fires
Nearly half of all home fires start in the kitchen, and unattended cooking equipment is a factor in almost a third of cooking fires.1 From a cost perspective, fires are among the most expensive claims.2 It's no wonder risk-mitigation devices such as smoke alarms and automatic stovetop fire suppressors have been available for so long.

Technology is advancing, and smart devices — from batteries to stove monitors — offer additional ways to reduce potential losses.

A smart battery powers a smoke detector the same way a normal battery does but adds another layer of protection. When the alarm sounds, the battery sends a push notification to a smartphone. If customers receive an alert from a smart battery and aren't home, they can contact the fire department and potentially prevent major damage to their home.

Smart smoke detectors don't just send push notifications; they also offer users the option to silence the alarm from the accompanying app if, for example, the alarm is sounding because toast burned. The detector will also alert users to low batteries to encourage quick replacement and prevent annoying low-battery chirping that always seems to happen in the middle of the night.

Listening devices listen for alarms from smoke and carbon monoxide detectors and send users push notifications. They're similar to smart batteries; users who aren't home can contact the fire department for help, but users can't silence the alarm(s) from their phones. Listening devices are geared toward consumers who want to add smart features to their homes without replacing all the smoke detectors or batteries in their homes.

Stove monitors sense motion and, if a user leaves the kitchen for more than a few minutes, shut down the stove. These monitors send smartphone alerts when the stove is about to shut down so a user can return to the kitchen and keep cooking. The monitor can also lock the stove during certain hours, such as when everyone is sleeping. Stove monitors cost far more than smart batteries, smoke detectors, and listening devices, but they also go beyond shortening response times to fire by helping prevent one from starting in the first place.
Water Leaks
Many home water leaks start small. A water line in a refrigerator gets loose, or a hose on a washing machine fails. But even a small water leak can grow quickly and cause major damage.

Smart devices can catch a leak when it's still small, before it devastates a house.

Smart water leak detectors sit on the floor and sound an alarm and send push notifications when they sense water. Users can place them behind the toilet, fridge, washing machine, or anywhere there's potential for a leak and quickly address the problem — before it grows.

Smart water shutoff valves offer more sophisticated protection. They monitor changes in water pressure, flow, and temperature to detect leaks. The valves connect to a smartphone, allowing users to shut off the water from anywhere. They are much more expensive than water-leak detectors, and some require a plumber to install. However, shutoff valves offer greater preventative capabilities than leak detectors, potentially making the extra cost worthwhile.
Crime
The average loss for a homeowners property theft claim is more than $4,000.3 With smart devices, people in dwellings large and small, rented or owned, can thwart would-be thieves.

Smart plugs plug into any outlet and give users the option to turn on or off lamps, fans, and small appliances from their phones. When they're out of town, users can set a schedule for lights to turn on and off, giving the appearance someone is home.

Window and door sensors are simple devices that detect when a window or door is opened and send a push notification to the user's smartphone. Just as with the smart battery for the smoke detector, a user who isn't home can respond to the notification by calling the authorities to check on the situation. Some window and door sensors can be installed with double-sided tape, making them an option for renters.

Video-enabled smart doorbells include motion detectors and cameras. They send push notifications and give users the option to talk with the person at the door. The cameras can record people attempting to enter the home illegally, porch pirates, and even potential arsonists. In some cases, users submit the recordings to the police to aid investigation after the crime. In other cases, users call the police right away to alert them of a crime in progress. Recently introduced smart cameras fit over a door, giving apartment dwellers an option with essentially the same functionality as a smart doorbell yet requiring no installation.
How you can offer customers smart home devices
If you insure property in Washington state and want to offer your non-commercial customers these and other devices, find out more about HB 2322 by downloading the WSRB white paper.

You'll learn about both the legislation and a variety of other goods and services you can offer customers, including low-tech options, such as foundation strapping and snow removal services. And you'll learn how you can get started providing risk mitigation goods and services to your customers.
---
[1] National Fire Protection Association, https://www.nfpa.org/Public-Education/By-topic/Top-causes-of-fire/Cooking
[2] Insurance Journal, https://www.insurancejournal.com/news/national/2016/04/06/404400.htm
[3] Insurance Information Institute, https://www.iii.org/fact-statistic/facts-statistics-homeowners-and-renters-insurance