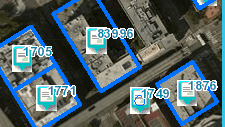 PropertyEDGE

®
PropertyEDGE® is a new way to evaluate your risks. Look up loss cost reports, find public protection classification information, and map potential hazards. Measure square footage, distance, and elevation in seconds. Turn to PropertyEDGE® when writing every property risk that crosses your desk.
General Casualty Report
You can now order a General Casualty Report supplement when you order a standard Commercial Property Report with Specific Loss Costs. The General Casualty Report includes information on casualty hazards, premises conditions, upgrades, crime, security and housekeeping. For larger risks, our experienced staff can provide a more detailed report customized to your needs.