As you probably know, building codes are the sets of rules and standards for the construction of buildings and structures. Their purpose is to protect public health, safety and general welfare.
The first documented reference to building codes dates back to 1772 B.C. as part of the Code of Hammurabi,1 one of the oldest recorded writings of its length in the world.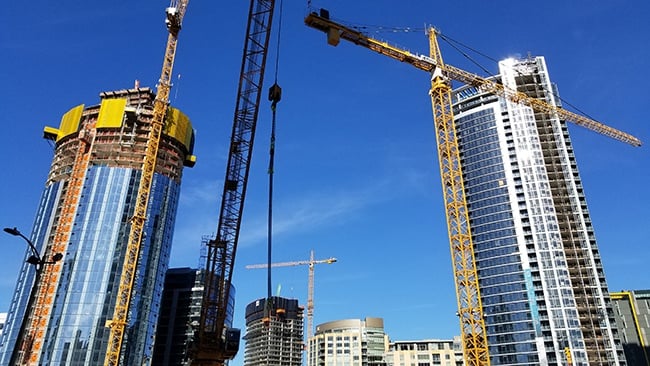 New construction follows the local area's most recently implemented building codes
Modern-day building codes are often influenced by a major event: the Great Chicago Fire of 1871, Great Seattle Fire in 1889, the 1906 San Francisco earthquake. There isn't a standard nationwide code, but many jurisdictions follow the International Code Council (ICC) I-codes. These codes include the International Building Code (IBC), the International Residential Code (IRC) and the International Fire Code (IFC).

Since each local government may have its own codes and standards, it is important for raters and underwriters to have a source for the code information, as well as an understanding on how well a community enforces their codes.

The WSRB Building Code Effectiveness Grading Schedule (BCEGS) evaluates both the community's codes and the degree to which they're enforced. It places special emphasis on building code requirements designed to mitigate losses from natural hazards.

When a catastrophe strikes, communities with effective, well-enforced, up-to-date building codes should experience fewer losses. They may also pay lower insurance rates. The prospect of less damage and lower insurance costs provides an incentive for communities to follow the rules — and rigorously enforce their building codes.


The evaluation process starts when WSRB collects information from a building department in three areas:
Administration of Codes:

This includes a review of the building code edition in use, modification of the codes, training and certification of code enforcers, the qualifications of building officials, public-awareness programs and participation in code-development activities and the appeal process.
Plan Review: Here, we review staffing levels, experience of personnel, and level of detail in the plan review process.
Field inspections: Our review includes a look at staffing levels, experience of personnel, level of detail of inspections, final inspections and issuance of certificates of occupancy.
After we analyze this data, WSRB assigns the community a classification of 1 to 10. Classification 1 represents exemplary commitment to building code enforcement; a classification of 10 indicates no recognizable building code enforcement. Any building constructed the year a community is classified or later is eligible for the same classification code, to use for insurance rating and underwriting purposes.
The BCEGS program encourages the implementation and enforcement of effective, up-to-date building codes. Effective building code enforcement should result in safer buildings, less damage and lower insurer costs from catastrophes.
Learn how to look up a BCEGS classification on the Subscriber portion of our website here, and get answers to common BCEGS questions here.
---
[1] Wikipedia, https://en.wikipedia.org/wiki/Building_code