"What's a CSP Classification Code?" This is one of WSRB's most frequently asked questions. Unless you've worked in a rating capacity, you've probably seen the numbers assigned to risks but never had to work with them. In this blog post, we'll tackle the CSP code question, starting with the short answer.
CSP stands for "Commercial Statistical Plan." The four-digit CSP Classification Code identifies the type of business conducted by the building's occupants. These risks are grouped into categories based on statistics, including losses, occupant types, premiums, exposures, and many other factors.
Property insurance Loss Costs are based on these statistics, so to keep them actuarially sound, all statistics must be classified into the correct CSP category. For statistical reporting, just about everything must be assigned a CSP code.
The RCP is a frequently-used group of CSP codes. Short for "Rating, Construction, and Protection", RCP is comprised of three factors:
Rating (for example, 2 for class rated, 4 for sprinklered)
Construction (for example, 1 for Frame, 3 for non-combustible)
Protection (based on a scale of 1-10, where 1 is the best protection classification, 10 is the worst)
You'll see CSP codes in WSRB's Loss Cost Look Up, as shown below.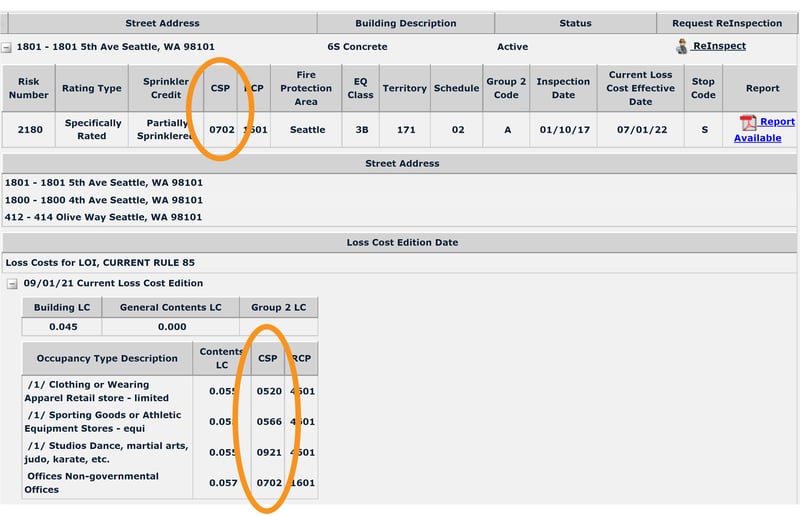 The Basic Group 1 Loss Costs are based on two separate CSP Classification Codes: one assigned to occupants within a building, the other to the building itself. These codes can be the same or different, based on the size of the building and the number and types of occupants. CSP Classification Codes can also be used to help determine whether a building should be class rated or specifically rated.
To help provide you with a better understanding of which CSP Classification Codes are associated with which types of buildings and/or occupants, we've listed some of the most common codes and categories.
CSP Classification Code

Category

Example

03--

These are typically apartments with residential occupants. Individual CSP codes will indicate if there are mercantile occupants within the building and the number of units in the apartment section.

0311 is an apartment building with up to 10 units and no mercantile occupancies.

074-

Hotels and motels with or without restaurants. The individual CSP code is determined based on the number of units within the hotel/motel.

0744 is a hotel with a restaurant and over 30 rooms.

054-

Restaurants, bars, and taverns.

0541 are bars and taverns.

0542 are restaurants with cooking.

0545 are restaurants with limited cooking.

056-

Mercantile risks.

0565 are jewelry stores.

0566 are sporting goods stores.

0567 is used for mercantile businesses with moderate susceptibility to loss.

051-, 052- and 053- can also be used for mercantile occupants.

083-, 084-

Recreational facilities.

0832 are movie theaters.

0834 are roller skating rinks.

0844 are enclosed buildings on picnic grounds.

09--

Typically, non-manufacturing or service occupants.

0900 are churches.

0911 are dry cleaners.

0921 are light hazard service occupants such as barber shops.

12--, 14--, 15--, 16--

Storage-related risks.

1200 are wharves, piers, and bridges.

1220 are household goods warehouses.

1501 are tobacco warehouses.

2---

Food manufacturing.

2059 is for meat, poultry, or fish products.

2200 is for bakery and bakery products.

2400 is for breweries.

38--, 39--

Wood manufacturing.

2800, 3009

Clothing and textile products manufacturing.

5---

Chemical manufacturing, with individual CSPs for plastics and rubber.

68--

Metal manufacturing.
A complete list of CSP Classification Codes can be found on the Classifications Table Pages of the Commercial Lines Manual.