Today, WSRB offers insurance companies instantaneous access to data, both on our website and integrated directly into policy administration systems. We've come a long way since our founding in 1911, decades before the technology we now take for granted was invented.

Let's look to the past to see how we've changed and to the future to discover how we can better serve you.
A trip to Tono
We combed through our archives and found some objects showing how much has changed in how we provide you the information you need to evaluate risk.

We found two maps from the 1930s: one used to rate a community's fire protection capabilities, the other as part of an inspection report of the buildings at a plant site.

In 1931, one of our inspectors visited Tono, WA, about 20 miles south of Olympia.1 The water works map shows the town's major streets, the locations of fire stations, water mains, and the reservoir. The pipes were made of wood, as were the water tower tanks on either side of town.

Tono was a coal mining town owned by the Washington Union Coal Company, part of the Union Pacific Railroad. The town's population peaked in the 1920s at more than 1,000. In 1932, not long after this map was made, railroads began switching to diesel for fuel, and the town started losing residents. Mining resumed in the 1960s, but by the 1980s had destroyed most of the town. Now, all that remains of Tono is a few overgrown foundations.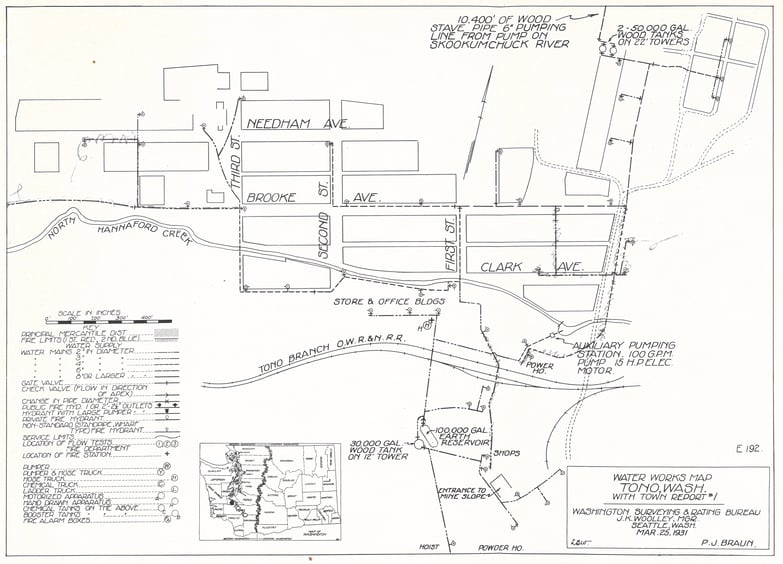 Map of Tono, WA from 1931 - click on the map for a larger version.
Not quite a year after our visit to Tono, WSRB traveled to the east bank of the Spokane River to inspect the McGoldrick Lumber Company, which began operating in 1906,2 just a few years before WSRB.

In addition to details about the lumber sheds, kiln, and mills, the map includes profile drawings of the buildings and an illustration of the water pump mechanism. The area's 48,000-gallon water tank was made of wood and sat atop a 51-foot wood tower.

You might be surprised that several buildings marked with AS, included automatic fire sprinkler systems. Such systems had actually been in use for decades by the 1930s, stretching back to the late 1800s. The first automatic sprinkler system was patented in 1872.3

In 1945, a fire — a common occurrence at lumber yards at the time — damaged most of the facilities, and the owners decided not to rebuild. Today, the land is part of Gonzaga University's campus, home to the Patterson Baseball Complex.4 Sharp-eyed readers will notice Gonzaga Stadium at the top of the map, next to the water tank.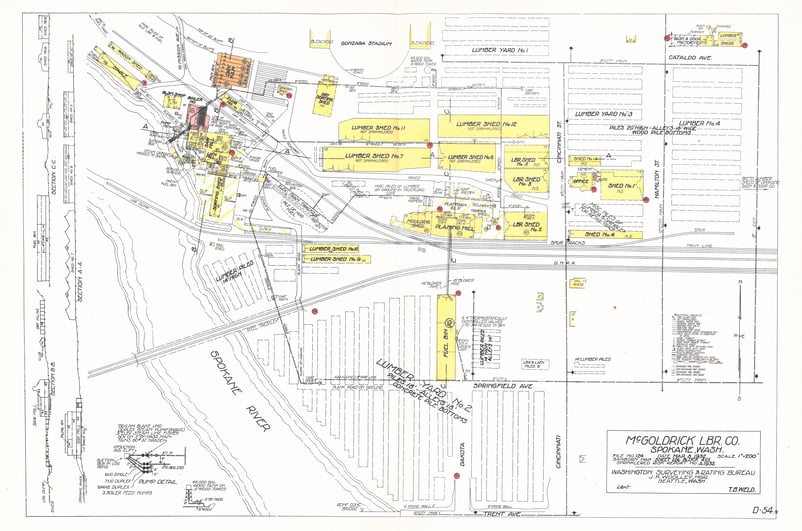 Map of McGoldrick Lumber Co. from 1932 - click on the map for a larger version.


Working for you
When we made these maps, we printed copies and mailed them to insurers to use in underwriting and rating. Now, we provide you underwriting information digitally, eliminating paper and increasing efficiency. Much has changed over the years, and we continue to refine the data we produce and how we provide it. In fact, earlier this year, we updated the criteria we use to establish Protection Classifications (PCs), which we have done many times since community evaluations began in 1911.

We regularly review and update all our rating criteria to keep up with technological advances, and we incorporate feedback from subject matter experts into our work. For example, we collaborated with the Washington Fire Chiefs to update the schedule we use to set PCs for communities.
Expanding our services to improve your decision-making
We're changing in other ways, too. We continuously study the industry and combine our insights with technology to help you better select and price risks.

Do you want to improve how well you understand your property risks? If so, let us know.

For example, we can map the risks you insure in any part of Washington. If there are specific areas that concern you, such as communities with a PC of 9 or 10 located near forests, heavy brush, or other wildfire fuel sources, we can map those and help you visualize the overall risk exposure. All this information helps you understand your concentration of risk and susceptibility to loss from a number of perils. It also helps you remain within the confines of your reinsurance contract and make more informed reinsurance purchases in the future.

If you'd like more information on this service, contact us online or call us at 206-217-9772.
Help us build even better products and services
We'll be introducing more new products and services soon. But just as we can't update our grading and rating criteria alone, we can't build what you most need without your help. So, we'd love to hear your answers to these questions:
What additional data would you like us to incorporate into our WSRB APIs?
What property risks do you need data on?
What emerging risks are weighing on your mind?
Send us your answers — along with any comments you have on how we can better serve you — by contacting us. We look forward to hearing from you and continuing our history of service and innovation.

---
Bryan Stanwood, CPCU, ARM, AIDA is WSRB's Vice President and COO. He has more than 20 years of property and casualty insurance experience and extensive expertise in managing high-performing insurance sales and underwriting departments.

[1] Wikipedia, https://en.wikipedia.org/wiki/Tono,_Washington
[2] The Spokesman-Review, https://www.spokesman.com/stories/2014/sep/15/then-and-now-mcgoldrick-lumber-mill/
[3] Wikipedia, https://en.wikipedia.org/wiki/Fire_sprinkler_system#History
[4] The Spokesman-Review, https://www.spokesman.com/stories/2014/sep/15/then-and-now-mcgoldrick-lumber-mill/