In the insurance industry, we consider the automatic sprinkler system one of the world's greatest inventions. The first modern system was designed and installed in 1812, and by 1890, automated sprinkler technology more or less resembled the systems in use today.
For over 100 years, WSRB has been evaluating and recommending fire insurance rate credit for automatic sprinkler systems. When properly designed, installed, and maintained, these systems are an extremely effective way to protect buildings and contents from fire damage. They're also a good way to save money. Automatic sprinkler system credit can shave up to 50% off advisory Loss Costs.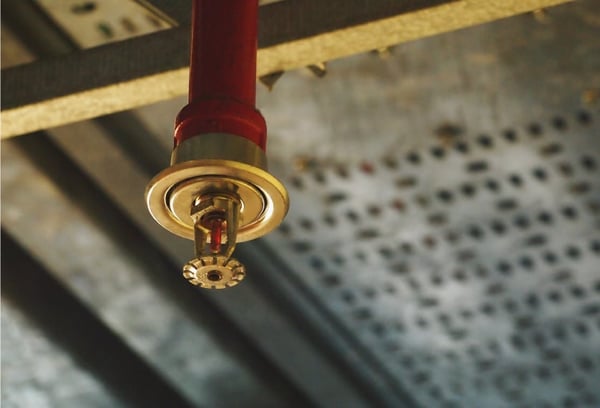 Automatic fire sprinkler systems can save property and lives,
but only if they're working properly

Several studies have determined their effectiveness, and this has been backed up by insurance loss data. The National Fire Protection Association (NFPA), the primary source of sprinkler installation standards, has conducted a number of studies over the years. Factory Mutual, public fire organizations, and others have also studied automatic sprinklers.

Studies indicate that automatic sprinkler systems are effective at controlling and/or suppressing nearly 90% of fires in the buildings where they are installed.
What happens the other 10% of the time?
More often than not, systems fail to work because the control valves are turned off. This factor accounts for over 50% of sprinkler failures.

Other factors include lack of maintenance, lack of coverage resulting in large non-sprinklered areas, and sprinkler systems that are not designed appropriately for the occupancy (which often feature high-piled storage or flammable liquids). Studies show each of these factors account for 5 to 15% of sprinkler failures.

Manual intervention is another cause. This occurs when systems are prematurely turned off, by on-site personnel or the fire department. Failures can also happen if anything is installed that obstructs the sprinkler heads. Manual interventions and obstructions account for up to 18% of sprinkler failures.
What WSRB looks for in a sprinkler system
When a WSRB Commercial Property Analyst surveys a building to establish advisory Loss Costs, they pay special attention to the automatic fire sprinkler system, if one is present. First, they'll go into the sprinkler riser (or control) room to verify the system is turned on and is monitored by a central station or securely locked in place. The same goes for control valves on the outside of the building.

Next, they'll look for proper testing and maintenance records. Typically, these are produced during an annual inspection performed by a licensed sprinkler contractor. They will also determine the design of the sprinkler system based on plans or hydraulic design information in the riser room.

As our analyst walks through the building, they look for non-sprinklered areas. Has a large tool room been added without sprinkler protection? Is there a non-sprinklered attic space? Fires can spread in areas with inadequate sprinkler coverage.

Finally, they look at what material is present and how it's being stored. The higher the combustibility of the product and/or the more product stored in one place, the more water will be needed to contain or extinguish a fire. Is the sprinkler system designed to do this? If the occupant or building has changed since it was installed, the system may no longer be adequate.
While extremely effective, fire sprinkler systems aren't perfect. The factors WSRB uses to determine the amount of credit a sprinkler system should get are the same factors that determine whether that system will operate as needed. The end goal is the same, to save property and lives.

If you have a customer who wants to maximize the benefits of their sprinkler system, make sure they have a licensed sprinkler contractor perform a maintenance and testing inspection on at least an annual basis. Then, log in to the member section of our site to request an inspection. Inspections are included with your WSRB subscription, and they're a good way to help customers gain credit, or show them what they need to do to make sure their sprinkler system will protect them as effectively as possible.
---