The threat of a landslide at Rattlesnake Ridge near Union Gap, Washington, is putting the spotlight on landslide risk. Though today's technology lets anyone watch the Rattlesnake Ridge Slide unfold, underwriters view it through a professional lens.
Underwriters are well aware of the need to assess for landslide risk. While most standard policies exclude landslide coverage, many properties in rain-soaked Washington and other hilly states need it. How do you determine this? Most of the time, it starts with a review of a risk's slope.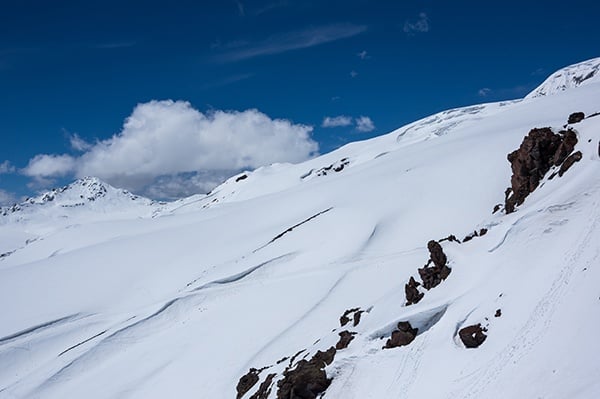 A property slope will impact firefighting, liability losses like slip-and-fall, and a number of other potential hazards. To measure slope, underwriters will often order an inspection.
Agent Tip – Make sure your clients are covered if their property is on a slope by offering a DIC policy. Use PropertyEDGE to measure slope.
But if you're a WSRB subscriber, you have a simpler alternative. Instead of a physical inspection -- and a trudge up a hill -- you can use PropertyEDGE to measure slope, building distances and proximity to hazards, all from the comfort of your office. Many companies pay for expensive software to access these types of tools, but since PropertyEDGE is included with your subscription, you get them at no additional cost.
Related: Use PropertyEDGE like a Pro training
PropertyEDGE is easy to use. Launch it from the member portion of our website and find the measuring tools on the far right of the screen.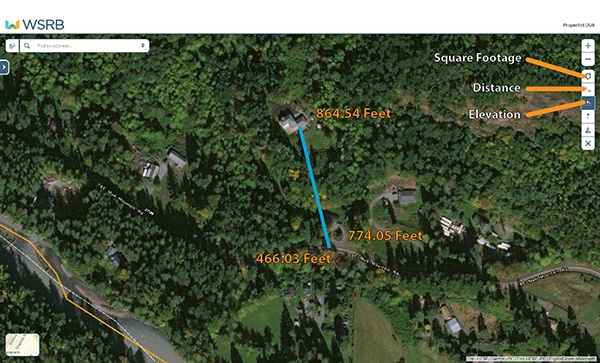 The first tool measures square footage. (For tips on using it, please visit our PropertyEDGE tutorial page.) Use the next tool, for measuring distance, to determine slope. First, measure the distance between two points and calculate the difference in elevation, then use the slope formula to figure out the slope in degrees.

In the example above, the risk resides above the main road. The home sits at 865 feet, the road at 774 feet and the distance between them is 466 feet. Using the slope formula, the rise here is 91 (865 minus 774), divided by the run distance (466), or 19.5% degrees of slope.
You can also use PropertyEDGE to measure distance between buildings or other hazards, which can help you better document your underwriting file and understand the risk. We encourage you to play around with the tools, so you can take full advantage of their capabilities.
Speaking of capabilities, we're constantly evolving our offerings to provide you with the tools and information you need to make your job easier. We're working on adding more options and data to PropertyEDGE to help you price and manage your company's exposures. Subscribe to the blog and we'll let you know when these upgrades become available.
We are also looking for underwriters to be part of our new product user group. If you want to help us create and develop the next generation of risk assessment information and tools, click here.
For additional information on Rattlesnake Hills Landslide, please click here.
Topics: PropertyEDGE, risk assessment, landslide