Have you ever dreamed about being trapped in a burning skyscraper? You're not alone. It's a common fear, especially after the horrific events of September 11, 2001. The terrorist attack on the World Trade Center led to the world's deadliest high-rise fire, killing 2,666 civilians and firefighters along with 157 passengers and crew members in the planes involved in the attack.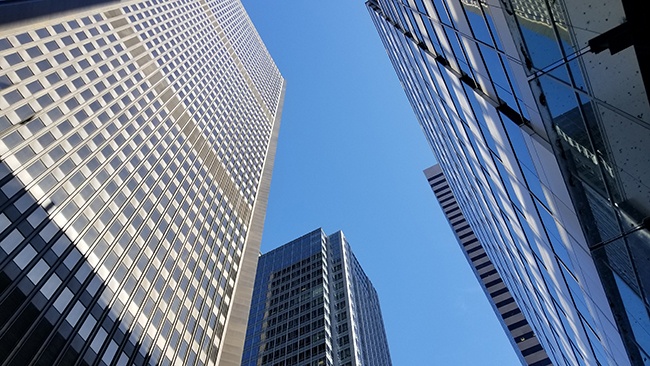 This tragedy, and others like it, have stoked our fears way out of proportion. In reality, high-rise fires are not that common and rarely deadly.
According to "High-Rise Building Fires," a report by the National Fire Prevention Association (NFPA), U.S. fire departments responded to an average of 14,500 high-rise structure fires between 2009 and 2013.
These fires caused an annual average of 40 civilian deaths, 520 civilian injuries and $154 million in direct property damage. Only 3% of structure fires reported during this time frame occurred in high rises, defined as buildings 7 stories and higher above grade. High-rise fires account for only 1% of deaths by fire annually.
Nearly 75% of all high-rise fires occur in these five property use categories, apartments being the most common.
Percentage of High-Rise Fires by Use Category
Apartments (62%)
Hotels (4%)
Dormitories (4%)
Offices (2%)
Facilities that care for the sick (1%)
The table below provides details on high-rise fire deaths, injuries and damage by occupancy:
High-Rise Fires by Occupancy
2009-2013 Annual Averages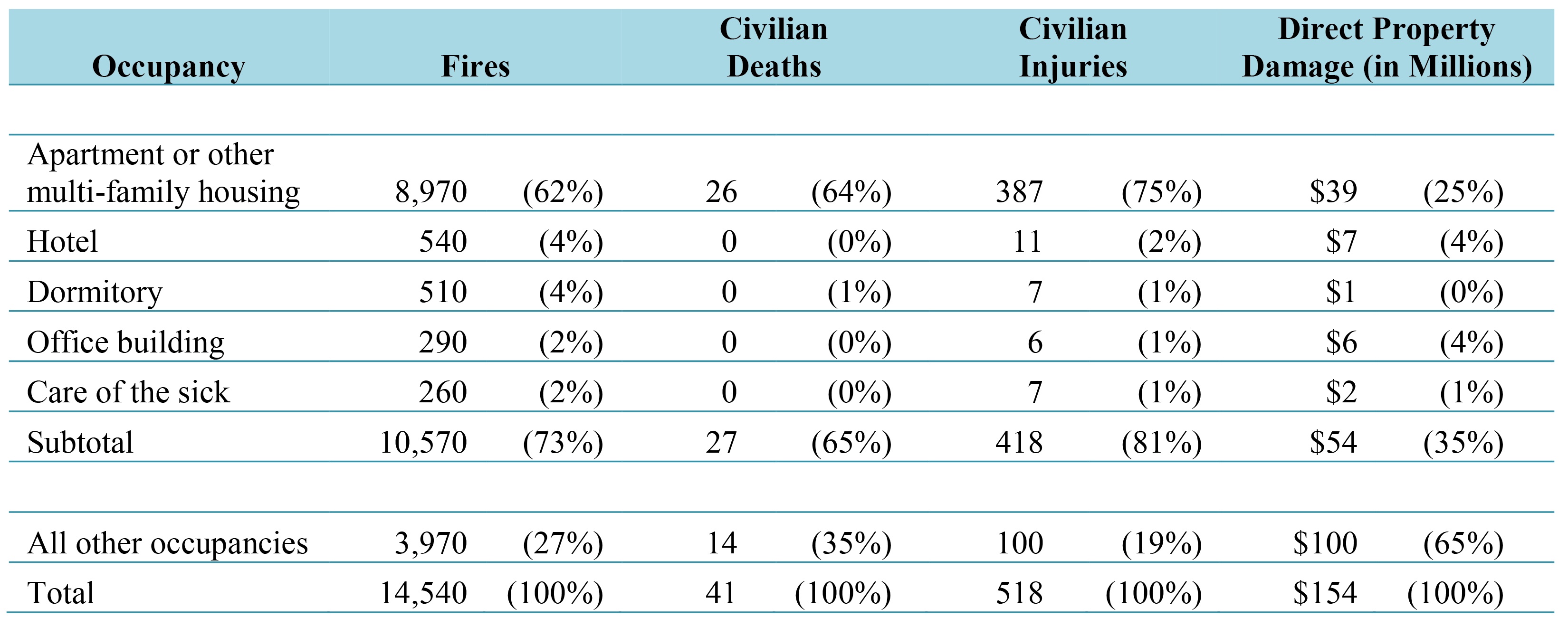 Note: These fires reported to U.S. municipal fire departments and so exclude fires reported only to Federal or state agencies or industrial fire brigades. Estimates include proportional shares of fires with number of stories above ground coded as unknown, blank, zero, less than zero or greater than 100. Fires are rounded to the nearest ten, civilian deaths and injuries to the nearest one, and direct property damage to the nearest million dollars without adjustment for inflation. Estimates of deaths, injuries, or property damage can be significantly affected by the inclusion of exclusion of one unusually serious fire. Sums may not equal totals due to rounding errors.
Source: NFIRS and NFPA Fire Experience Survey.
The report surfaces an interesting fact that may calm your high-rise fire fears. Property and life losses are lower in high rises than in shorter buildings in the same use category. This seems counter-intuitive, until you realize that high-rise buildings are required to incorporate fire-resistive construction techniques and fire protection systems that limit a fire's ability to spread.
Shorter buildings don't have the same requirements, and rarely have the combination of fire-resistive construction and prevention/suppression systems found in high rises.
Related:
The Basics on Construction Classes - Part Six, Fire-Resistive
The Basics of Construction Classes – Part Five – Modified Fire-Resistive
The NFPA report found that in high-rise buildings, there are a lower percentage of fires causing damage beyond the room of origin. This points to the importance of fire protection systems and features:
Percentage of Fires Causing Damage Beyond the Room of Origin
Structure

High-rise buildings

(7+ stories)

Shorter buildings

(under 7 stories)

Apartments

4%

10%

Hotels

4%

11%

Dormitories

2%

1%

Facilities caring
for the sick

4%

9%
In high rises, 94% of fires are contained to the room of origin and an impressive 98% are extinguished before the fire department arrives. How? With automatic sprinklers and other fire detection and protection systems! High-rise buildings may have several of these systems in place, including:
Sprinklers Systems
Fire Alarm Systems
Public address systems
Enclosed stairwells
Massive ventilation systems (300,000 cubic feet of air in some cases)
Automatic closing fire doors
At WSRB, we recognize how critical these systems are to protecting lives and the building. This is why we may offer rating credit for fire protection systems that meet key criteria.
Related:
Top Ten Reasons You Aren't Getting Full Sprinkler Credit
Proper construction standards and fire detection/suppression systems are essential for protecting lives, but fire is just one hazard to consider in high-rise buildings. To help you and your occupants prepare, the experts at NFPA have created the "Guidelines to Developing Emergency Action Plans for All-Hazard Emergencies in High-Rise Office Buildings". Please share this valuable resource with your clients.
Post Source: