When you think of property crime, you probably think first of car theft, robbery or vandalism — not arson. But arson is more costly than you might realize. In fact, the FBI reports that the average dollar loss per arson was $17,406 in 2018, the most recent year for which data is available. For industrial/manufacturing structures, the average dollar loss was $100,578.1

The true cost of arson is even higher because those numbers don't include the potential damage to human life or the emotional toll of the crime on citizens and business owners.

To reduce arson, let's look at how common it is in Washington state and offer ways you can help prevent arson and solve arson crimes.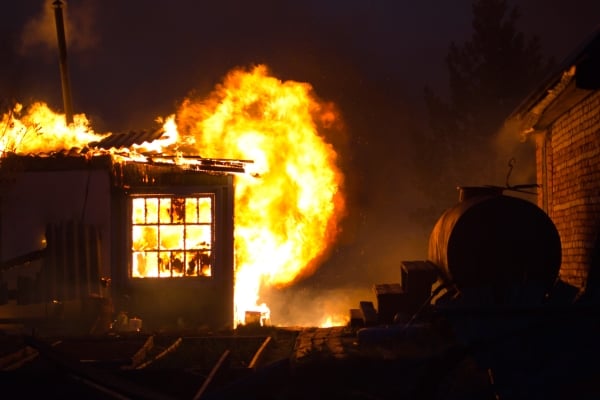 Arson can incur tens or even hundreds of thousands of dollars in property damages.
How common is arson in Washington state?
Arson has become more common over the last several years. Between 2012 and 2018, the total number of reported arsons rose at a steady pace. In 2012, 776 arsons were reported in Washington state; in 2018, 1,025 were reported.2 You can see the annual growth in this graph: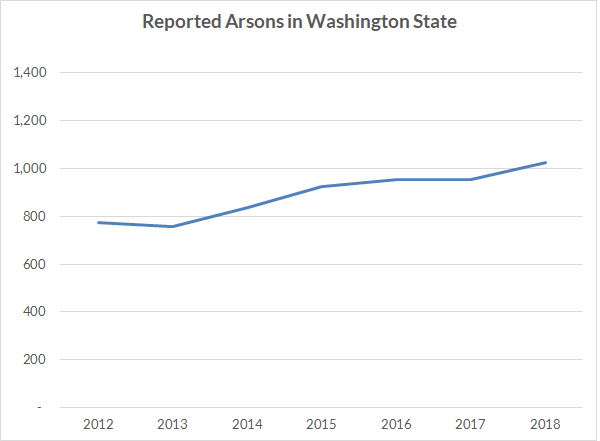 The total number of arsons reported in Washington state has grown since 2012.
Fortunately, though, the growth of arson has not kept pace with the growth in population. In 2012, there were about 4.4 million residents of Washington state. By 2018, that number had ballooned to 7.4 million.3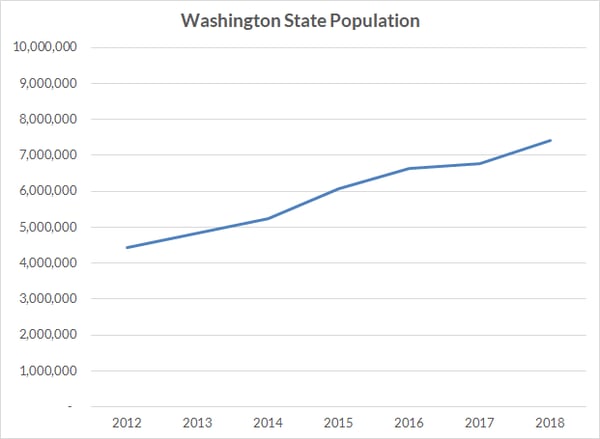 The state's population has also grown significantly since 2012.
So, if we look at the rate of reported arsons per 100,000 residents, the rate has declined from 17.5 in 2012 to 13.9 in 2018.
The rate of arsons reported per 100,000 residents has fallen since 2012.
What can insurers and the public do about arson?
Fewer arsons mean less crime, property damage and potential harm to human life. "And quite often, arsons affect schools, places of worship and businesses," said Kenton Brine, a board member of the Arson Alarm Foundation (AAF), a nonprofit with the mission of stopping arson in Washington state.

Fewer arsons also mean fewer claims and lower costs for insurers. One way insurers can fight arson is to become familiar with the AAF's work and consider supporting the group, said Brine, who is also president of the Northwest Insurance Council, a longtime sponsor of the AAF.

"For the general public, the most important thing is if you see something, say something. You know the places you go often, and you know when something looks out of place," said Brine. "When that occurs, we encourage you to inform law enforcement about it. If you see something you believe is arson-related, call the AAF's toll-free tip line. We work with law enforcement agencies around the state to investigate those tips."

You can leave your tip with the AAF anonymously, either by calling 1-800-55-ARSON (1-800-552-7766) or by visiting the AAF's website and filling out the online form.

The AAF maintains an award fund of approximately $10,000 total for people who submit tips that lead to an arrest. Each award usually ranges from $500 to $2,500, depending on the value of the tip, said Brine.

WSRB is a proud supporter of the Arson Alarm Foundation.
---
[1] Crime in the United States, FBI, https://ucr.fbi.gov/crime-in-the-u.s/2018/crime-in-the-u.s.-2018/topic-pages/arson
[2] Washington State Statistical Analysis Center, https://sac.ofm.wa.gov/data
[3] Washington State Statistical Analysis Center, https://sac.ofm.wa.gov/data