It's nearly here: the Fourth of July. Time to celebrate freedom with friends, family, fireworks and food. It's also time to remember that some of the most popular Independence Day activities create risk. Let's explore how you can protect yourself, your home and those you care about so your holiday is fun and safe.
Staying safe on the Fourth of July

Fire safety is important every day of every year, but especially so around Independence Day, when the most popular activities — including grilling and fireworks — raise the risk of structure fires, wildfires, burns and other injuries.
This year, reducing fire risk is particularly important because drought conditions are prevalent in much of the Western U.S., drying out the vegetation that fuels many outdoor fires. A stray spark from a firework, campfire or grill could ignite your lawn, your neighbor's lawn or the grassy vacant lot across the street, and the resulting fire could damage your home or even start a wildfire. In fact, the Fourth of July is the peak day for wildfires caused by fireworks; the fifth of July is next on the list.1
Take a few minutes now to review essential safety tips for Independence Day and every day.
Barbecuing safely
The Fourth of July is peak grilling season, a delicious but potentially dangerous time. Here are a few data points to illustrate the risk. Between 2014 and 2018:
Grills caused an average of 10, 600 home fires each year.

These fires led to an average of 10 civilian deaths and $149 million in property damage per year

.

2

An average of 9,500 people went to the emergency room for a thermal burn — that is, a burn caused by contact with a hot surface — related to a grill per year.

Forty percent of those burns happened to children under five years old.

3
To help you enjoy your barbecue chicken, burgers, kebabs, vegetables and everything else without worry, follow these grill safety tips.
Never barbecue indoors. Always grill outside in a well-ventilated area.

Know your grill. Read the instructions and safety warnings it came with and follow them.

Clean your grill. Removing buildup from the grease and fats from the trays will help prevent flare-ups.

Keep your barbecue away from combustible materials, such as railings, eaves, overhangs and branches.

If you don't already have one, buy a fire extinguisher and keep it nearby. If you do have an extinguisher, check the pressure gauge to ensure it is properly charged.

Establish and enforce a three-foot "safe zone" around the grill where dogs and kids are not allowed. This practice keeps them safe from injury and prevents them from tipping over the barbecue and causing a fire.

If you live in an apartment or condo, check the rules and find out what type of barbecue is allowed. Some complexes may ban barbecues altogether.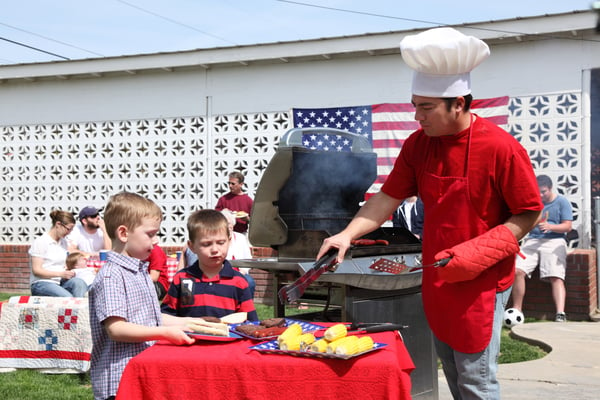 The Fourth of July can create fire risk, so be sure to barbeque safely.
If you have a gas grill:
Always check the connections before you use the grill for the first time in a season and again periodically throughout the summer.
Check the dates on your propane tank. It may need to be re-certified to ensure it's safe. Check with your local refilling station to see if your tank is due for re-certification, also sometimes called re-qualification.4 An alternative to having your old propane tank re-certified is to purchase a new one.
Check and double-check you've turned off the gas when you finish grilling. Don't leave this step until after the meal is over. Turn the gas off as soon as you finish cooking so you don't forget.
If you have a charcoal grill:
Never place hot coals in plastic or combustible containers such as wood boxes or paper bags. Metal is best.
Be sure the coals are completely cooled before disposing of them.
Set off fun, not fires
Like grilling, fireworks can cause injuries. In fact, in the month around the Independence Day holiday, an average of 243 people go to the emergency room every day with fireworks-related injuries.5
Washington state and many localities regulate fireworks, and some areas ban them. Before you light fireworks, check that they're legal in your area. Rules change from year to year, so what was legal last year might not be legal this year. The penalties for breaking the rules can be severe: for example, in Spokane County, you could spend up to 90 days in jail, be fined up to $1,000 or both for violating the fireworks ordinances.6

If you do light fireworks, follow these fire safety tips:
Set off fireworks only during approved times.
Set off only legal fireworks.
Keep a fire extinguisher, hose or other water source nearby.
Do not set off fireworks near combustible materials, including dry fields.
If a firework doesn't ignite properly, don't re-light it.
Do not allow children to set off fireworks.
Once a firework has finished burning, extinguish it completely with plenty of water before disposing of it.
Remember, if you want to enjoy fireworks without the work or worry, there are many public displays you can attend. As you celebrate the holiday, also remember that we at WSRB wish you a happy, and most importantly safe, Independence Day.
---
[1] National Fire Protection Association, https://www.nfpa.org/-/media/Files/News-and-Research/Fire-statistics-and-reports/WUI/osbrushgrassforest.pdf
[2] National Fire Protection Association, https://www.nfpa.org/News-and-Research/Data-research-and-tools/US-Fire-Problem/Home-Grill-Fires
[3] National Fire Protection Association, https://www.nfpa.org//-/media/Files/News-and-Research/Fire-statistics-and-reports/US-Fire-Problem/Fire-causes/osGrills.pdf

[4] Propane 101, https://www.propane101.com/propanecylinders.htm
[5] Consumer Product Safety Commission, https://www.cpsc.gov/safety-education/safety-guides/fuel-lighters-and-fireworks/fireworks-injuries
[6] Spokane County Code, https://library.municode.com/wa/spokane_county/codes/code_of_ordinances?nodeId=TIT3BUST_CH3.17FI_3.17.090VIEN