Wildfire season will soon begin in Washington state. Exactly when it will start and how damaging it will be, we can't predict. But we know it's coming, and that creates a challenge for insurance agents and their customers. We want to help everyone prepare, so we've built a new tool focused on wildfire risk in Washington state.
In this post, we explore how the new tool works and how insurance agents can use it to help their customers.
What increasing wildfire risk in Washington state means for insurance agents
Wildfire is a growing concern for both insurers and customers. As a result, insurance coverage for properties in wildfire-prone areas is becoming harder to get at affordable prices, and risk-mitigation strategies are becoming more important.
Insurance agents can help their customers who own property in wildfire-prone areas in two ways. First, by educating customers about their individual property's risk so they understand their premiums may increase and why. And second, by informing customers about effective mitigation strategies. When customers take steps to reduce the risk a wildfire will severely damage their property, insurers may offer lower premiums or other discounts.
As wildfire risk in Washington state draws more attention from insurers, agents who proactively support customers in these ways are likely to retain more customers and could even attract new ones.
The new Wildfire Risk Tool gives you wildfire-related insight for every property in the state, making it fast and easy to identify customers who may face rising premiums and could benefit from mitigation strategies.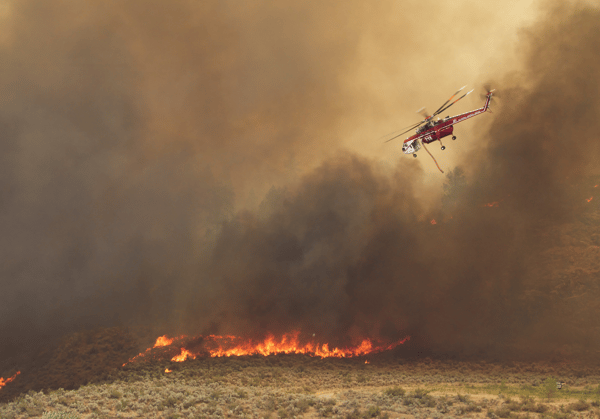 Wildfires could be severe in Washington state this year.
Now is the time to help your customers prepare.
One thing the tool does not do is provide a score or other assessment of wildfire risk. We want to give you the information you need to make an informed decision, not hide or manipulate data in a black box.
In this post, we'll explain each data point the tool provides so you get the most value possible.
How insurance agents can help customers manage wildfire risk
For agents to help customers, agents first need to know who faces increased wildfire risk. The new Wildfire Risk tool makes this easy. Just enter an address or latitude-longitude for any location in Washington state, and you'll get three key data points, which we'll describe in a moment. If you don't want to wait to try the tool, just login now and click on the "Try it Now" button in the New Products box.
The other thing agents need is knowledge about mitigation strategies. We'll cover some of those shortly and bring you additional mitigation-related resources in future blog posts. It's important to note that these strategies don't reduce the chance that a wildfire will occur in a certain area, but they do reduce the risk that a fire will cause major property damage, making them appealing to insurers.
How to interpret the data in the Wildfire Risk tool
The Wildfire Risk tool gives you data on:
Whether a property is in the Wildland-Urban Interface.
If past wildfires have occurred within one mile of the location and, if so, when.
As we promised, we're open about what we provide; there's no black box. So, let's explore each of these and what they mean.
The Wildland-Urban Interface
The Wildland-Urban Interface (WUI) is where built structures meet or mix with undeveloped natural areas. Properties in the WUI are at greater risk of wildfire damage than properties in highly developed areas with less vegetation to serve as fuel. The WUI expanded by more than 46 million acres between 1990 and 2010, and this increase leads to greater wildfire risk, according to the U.S. Forest Service.
There's even more detail about the WUI on the results page of the tool, and in our in-depth interview about the WUI with an expert from the National Fire Protection Association (NFPA).
Distance from Historic Wildfire Perimeter
Distance from Historic Wildfire Perimeter answers the question "Have past wildfires occurred within one mile of the location? If so, when?" The data spans from 2000 to 2019, the latest year of available data.
Since 1950, a pattern of repeat fires in the Western U.S. has emerged. About 30% of previously burned land in the region has seen burn-on-burn effects, or fires in the same area where a fire had previously occurred. Repeat fires typically happen every seven years, about the amount of time necessary for an ecosystem to build up enough vegetation to burn again, according to the NASA Earth Observatory. Check out our blog post about historic wildfire perimeters and key factors influencing where wildfires occur.
The search results page includes the information shown above, so you can easily reference it along with the data for each address you look up.
For detailed instructions on how to use the tool, read our Help Center article.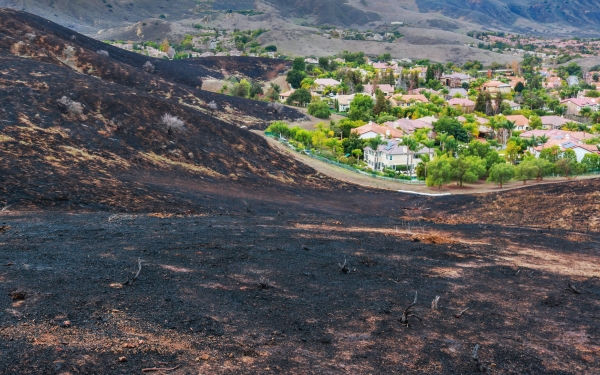 Find out which properties in Washington state are at higher
risk for wildfire damage with our new tool.
Effective wildfire risk mitigation strategies
The NFPA has developed a suite of resources to help homeowners reduce the risk of property damage due to a wildfire. This webpage is a great place to start, and it's easy to share with customers. It includes the NFPA's fact sheet about preparing homes for a wildfire, in both English and Spanish. It also features a useful diagram showing the home ignition zone, a set of spaces around a home that should be managed in specific ways to prevent the home from catching on fire. And, there's a checklist for each zone to make risk mitigation easier to understand.
What do you think of the Wildfire Risk tool?
The Wildfire Risk tool is the second in a series of new data products we're building to help you work smarter. We want and need your feedback so we can build the right products with the right features.
You'll see a survey in the tool. It takes just a few minutes to complete, and we'll use the feedback to improve not just the Wildfire Risk Tool but also the other products we're developing. We look forward to hearing from you and improving our products so you can increase your business.
---