The 2020 wildfire season has already begun, and it's predicted to be severe. The novel coronavirus outbreak could add to the severity, reinforcing the need for property owners to take risk-mitigation steps.
Without the COVID-19 pandemic, Washington State Commissioner of Public Lands Hillary Franz said the season would be "very challenging," citing the number of wildfires counted so far and forecasts of especially warm and dry summer weather. The pandemic, and its effects on firefighting, will make the season "extremely challenging," she said.1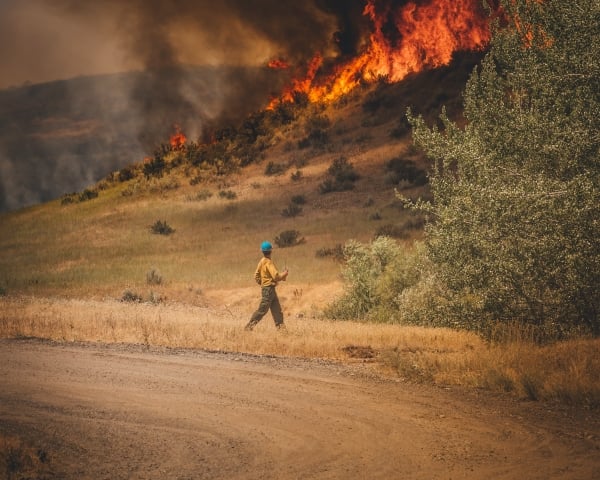 Wildland firefighters may need to remain socially distant this season
Coronavirus could increase wildfire property risk
Normally, mini-cities pop up to fight large wildfires.2 Firefighters and support personnel live and work in close proximity to each other, often setting up headquarters at a county fairground, school or other open space near a fire. Managers oversee operations and plan the response. Mechanics repair essential equipment. Cooks provide meals. Many personnel sleep in tents.
When wildfires grow to a certain size, a locality may ask for the state to provide resources. At an even larger scale, the state may ask for resources from other states or even other countries. In 2018, Washington state received aid from as far away as Australia.3
It's not yet clear exactly how wildland firefighting will work in the time of social distancing, but it is possible that the resources necessary to fight fires could become scarce, depending on how the season progresses. For example, if a firefighter or support worker becomes infected, that person may need to be isolated, and others may need to be quarantined, reducing the number of people available to fight fires. Some firefighters may choose to avoid fighting wildfires this year due to personal health concerns or other coronavirus-related factors.
Shortages of personnel or other resources could mean that wildfires burn for longer periods and burn more acres — and more properties — than they would otherwise. Risk-mitigation efforts, which are always important, are especially so this year.
New tools can help insurers and their customers
For insurers, encouraging property owners to clear and maintain defensible space can reduce damage and the resulting claims. Our new Wildfire Risk Tool makes it easier to identify customers with homes or businesses at high risk of wildfire-related property damage. For every address point (or latitude-longitude) in Washington state, you get information on:

Once you identify customers at high risk, you can contact them and share information from the National Fire Protection Association about how to reduce that risk.

Customers interested in more details about their area's risk can use a new tool from the U.S. Forest Service, Wildfire Risk to Communities. The user-friendly website lets everyone explore the wildfire risk to any community in the country. Simply click on "Explore" or go directly to that part of the site, begin typing the name of a city or town, and see the results.

Multiple visualizations are available, showing four dimensions of risk:

Relative risk to homes compared to other communities in the state.
The primary source of risk: direct or indirect (embers, home-to-home ignition).
Relative wildfire likelihood compared to other communities in the state.
The number of residents who may struggle to prepare for a wildfire due to lack of a car, being over age 65 or other factors.
The site also includes many risk-reduction resources you can share with customers. The Wildfire Risk to Communities tool is designed for consumers, but insurers may also find it useful to better understand their concentration of risk in a community level or simply to encourage customers the wildfire threat is real.
---
[1] KOMO News, https://komonews.com/news/local/state-firefighters-prepare-for-extremely-challenging-wildfire-season
[3] The Seattle Times, https://www.seattletimes.com/seattle-news/washingtons-busy-wildfire-season-will-be-impacted-by-coronavirus-pandemic/
[4] The Seattle Times, https://www.seattletimes.com/seattle-news/washingtons-busy-wildfire-season-will-be-impacted-by-coronavirus-pandemic/